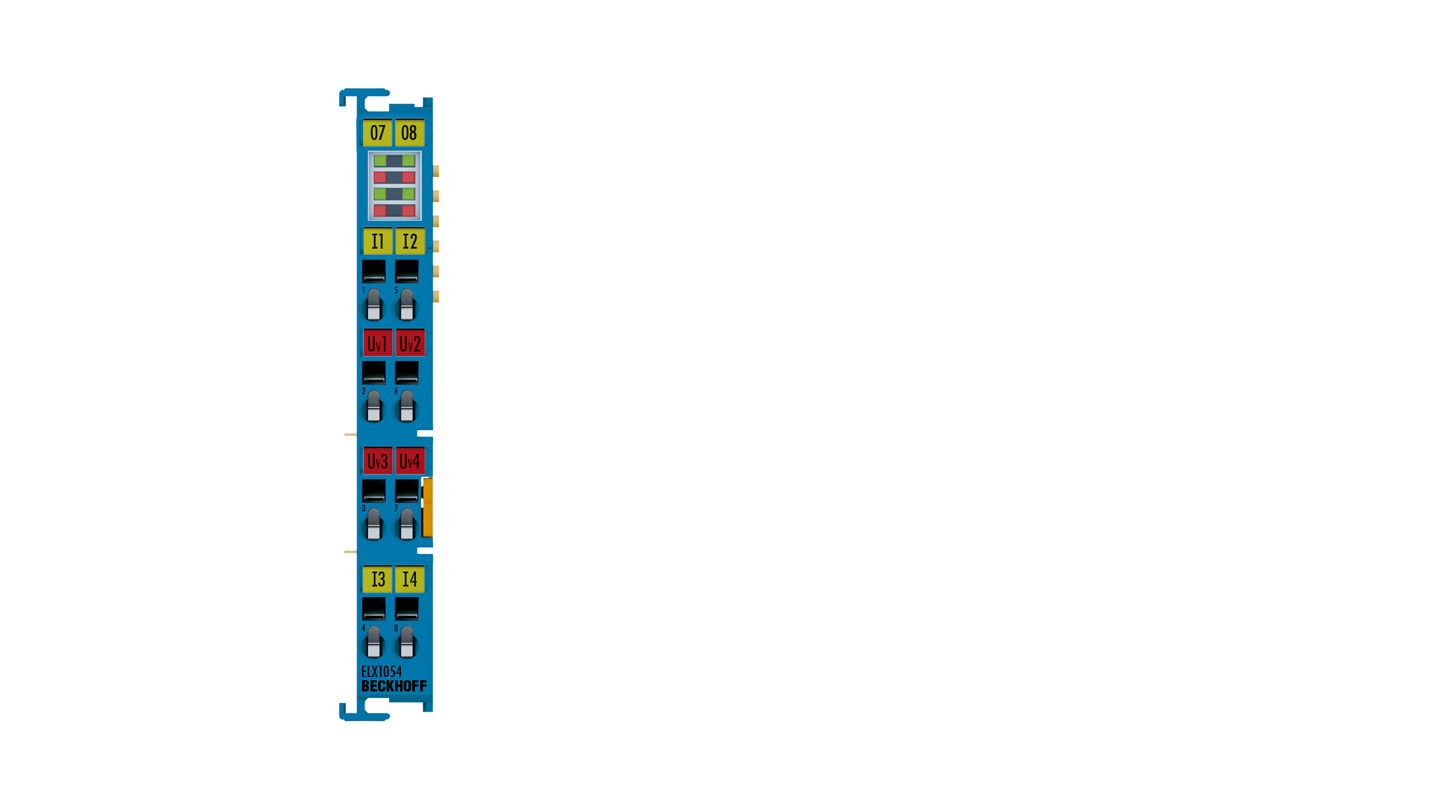 Signal LED 1

Error LED 1

Signal LED 3

Error LED 3

Signal LED 2

Error LED 2

Signal LED 4

Error LED 4

Power contact
+24 V EX

Power contact
0 V EX

Input 1



Input 3

Input 2



Input 4
Top view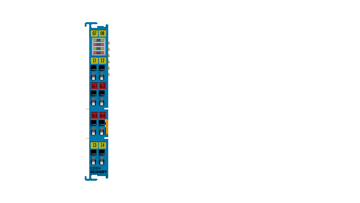 ELX1054 | EtherCAT Terminal, 4-channel digital input, NAMUR, Ex i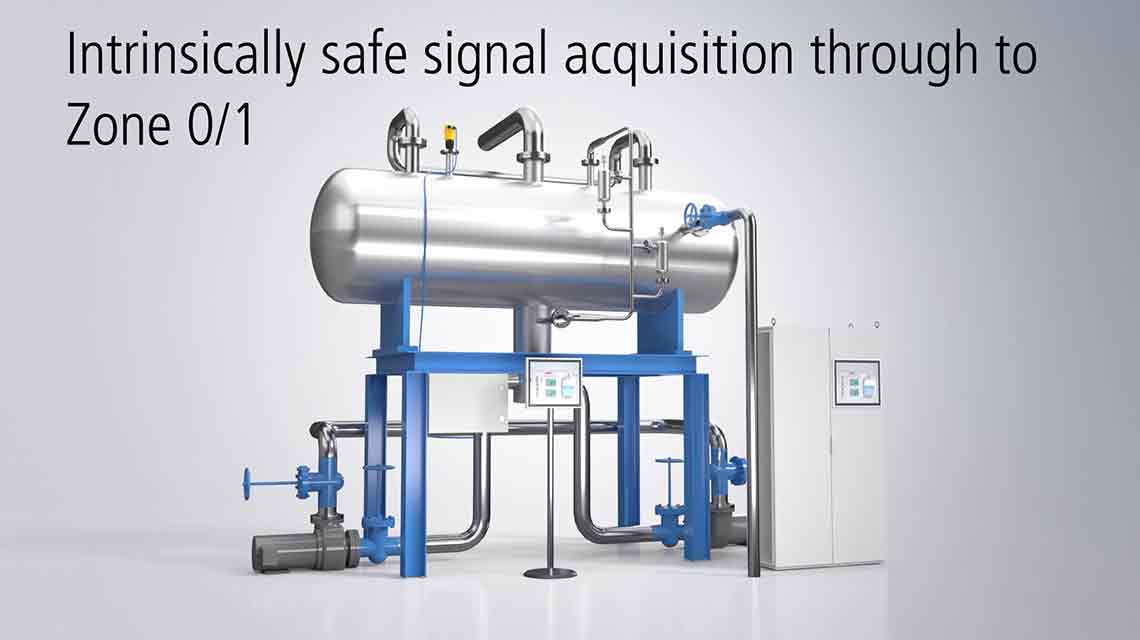 The system-integrated solution for explosion protection: PC-based control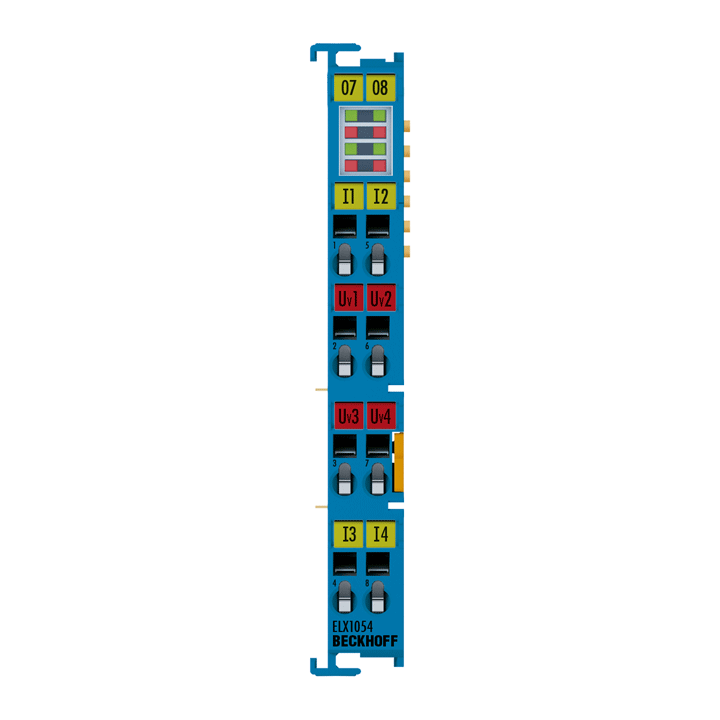 The ELX1054 digital input terminal acquires signals from NAMUR field devices according to EN 60947-5-6. The sensors are supplied with a voltage of 8.2 V and return a diagnosable current signal. In this way, a wire breakage or short-circuit can be detected in addition to the switching state. The LEDs indicate signal or any error states, channel by channel.
Using a DIP switch on the side, it is possible to select channel by channel whether a positive switching or negative switching sensor is to be connected. Thus, no changes to the PLC are required for the connection of both NAMUR break contacts or make contacts.
EtherCAT terminals of the ELX series must always be operated in conjunction with the ELX9560 power supply terminal. This terminal generates an electrically isolated output voltage (24 V EX) from the input voltage (24 V DC) for supplying the subsequent ELX terminals. If a new power supply is required, the combination of an ELX9410 and an ELX9560 can be used so that further ELX terminals can be added. The ELX terminal string must be terminated with one ELX9012 or two ELX9410.
Product information
Technical data
ELX1054
Technology
digital input
Specification
NAMUR (IEC 60947-5-6)
Number of inputs
4
Connection method
2-wire
Open circuit voltage
typ. 8.2 V DC
"0" signal current
≤ 1.2 mA
"1" signal current
≥ 2.1 mA
Switching hysteresis
typ. 200 µA
Short-circuit current
typ. 7 mA
Fault detection
I ≤ 200 µA (cable break), I ≥ 6.3 mA (short circuit)
Max. switching frequency
typ. 5 kHz (duty factor 50 %)
Supply voltage electronics
24 V DC (via power contacts), ELX9560 power supply
Current consumption power contacts
typ. 15 mA + load
Current consumption E-bus
typ. 70 mA
Weight
approx. 55 g
Operating/storage temperature
-25…+60 °C/-40…+85 °C
Relative humidity
95 %, no condensation
Vibration/shock resistance
conforms to EN 60068-2-6/EN 60068-2-27
EMC immunity/emission
conforms to EN 61000-6-2/EN 61000-6-4
Protect. rating/installation pos.
IP20/see documentation
Approvals/markings
CE, UL, ATEX, IECEx, cFMus, CCC
Ex marking
ATEX:
  II 3(1)G Ex ec [ia Ga] IIC T4 Gc
  II (1)D [Ex ia Da] IIIC
  I (M1) [Ex ia Ma] I
IECEx:
  Ex ec [ia Ga] IIC T4 Gc
  [Ex ia Da] IIIC
  [Ex ia Ma] I
cFMus:
  AIS Class I, II, III, Division 1, Groups A thru G
  Class I, Division 2, Groups A, B, C, D
  Class I, Zone 2, AEx ec [ia Ga] IIC T4 Gc
  [AEx ia Da] IIIC T4
Housing data
ELX-12-8pin
Design form
compact terminal housing with signal LEDs
Material
polycarbonate, blue
Dimensions (W x H x D)
12 mm x 100 mm x 68 mm
Installation
on 35 mm DIN rail, conforming to EN 60715 with lock
Side by side mounting by means of
double slot and key connection
Marking
labeling of the BZxxx series
Wiring
solid conductor (s), flexible conductor (st) and ferrule (f): spring actuation by screwdriver
Connection cross-section
s*: 0.08…2.5 mm²,
st*: 0.08…2.5 mm²,
f*: 0.14…1.5 mm²
Connection cross-section AWG
s*: AWG 28…14,
st*: AWG 28…14,
f*: AWG 26…16
Stripping length
8…9 mm
Power contacts
2 blade/spring contacts
*s: solid wire; st: stranded wire; f: with ferrule