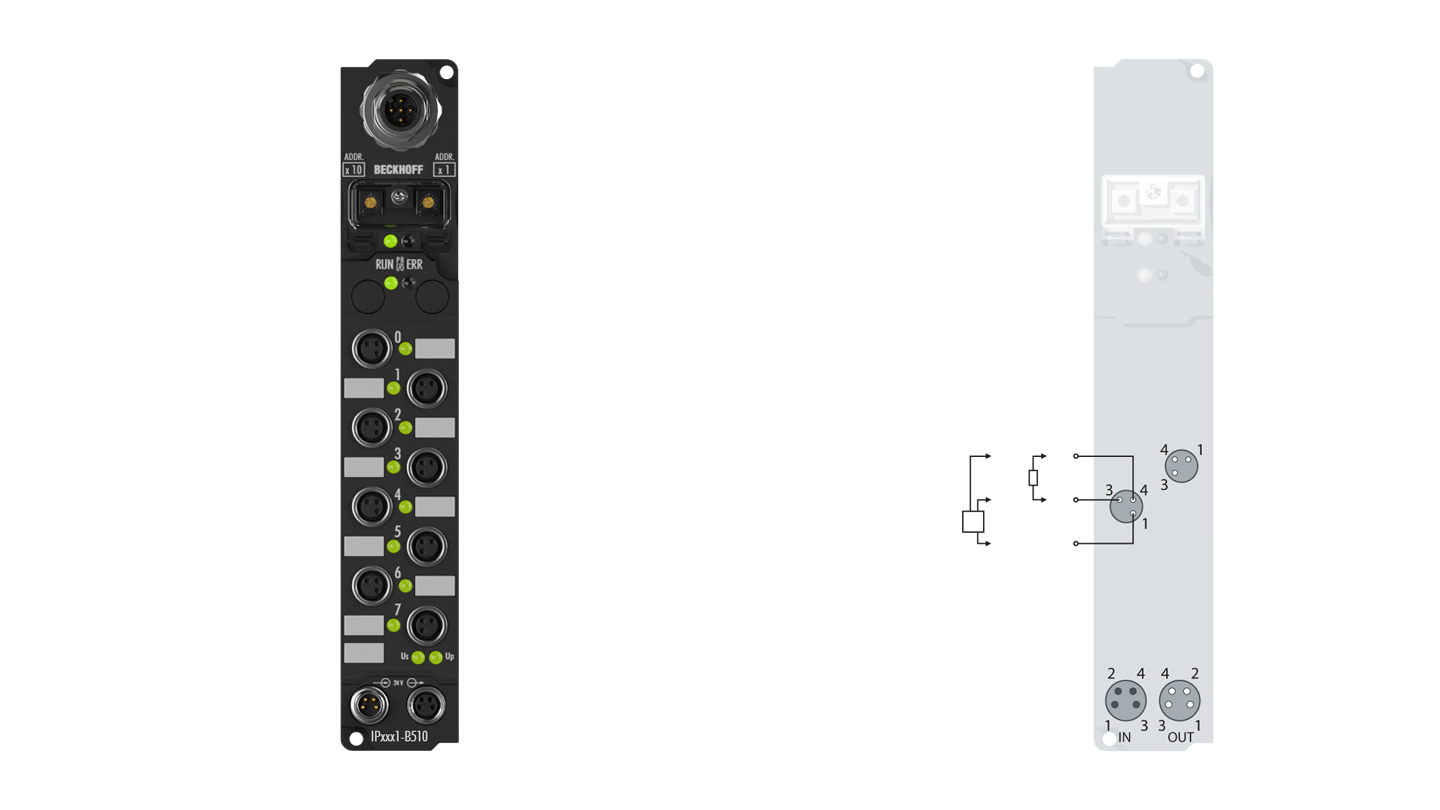 Fieldbus connection (design depends
on the fieldbus)


M8 I/O connection sockets


Signal status display


Labeling areas
Power supply status display:






Power supply feed


Power supply downstream
connection
1 | +24 V DC U
S
3 | GND
4 | Output
1 | +24 V DC U
S
2 | +24 V DC U
P
3 | GND
4 | GND
2-wire
3-wire
Top view
I/O connection
Connector assignment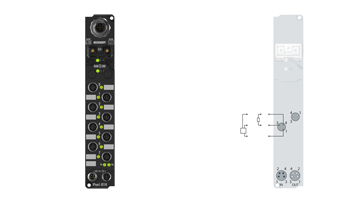 IP2001-B510 | Fieldbus Box, 8-channel digital output, CANopen, 24 V DC, 0.5 A, M8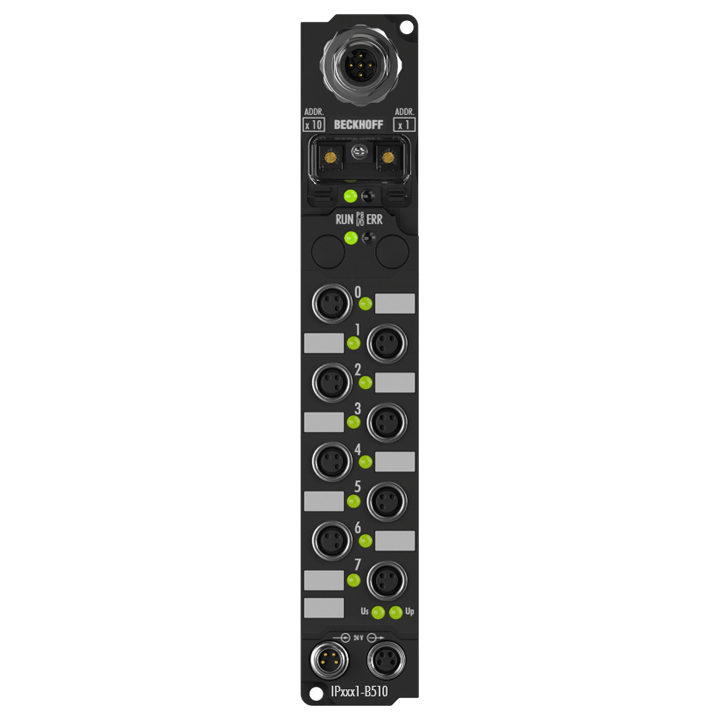 The IP2001-Bxxx digital output connects the binary control signals from the automation unit on to the actuators at the process level. The eight outputs handle load currents of up to 0.5 A and indicate their status through light emitting diodes. The signals are connected via M8 screw type connectors.
The outputs are short-circuit proof and protected against inverse connection.
Product information
Technical data digital outputs
IP2001-Bxxx
Number of outputs
8
Output connections
M8, screw type
Load type
ohmic, inductive, lamp load
Nominal output voltage
24 V DC (-15 %/+20 %)
Max. output current
max. 0.5 A per channel, individually short-circuit proof
Short-circuit current
typ. 1.5 A
Auxiliary power current
typ. 20 mA per channel
Current consumption from U

S

(without sensor current)
see documentation
Power supply connection
feed: 1 x M8 male socket, 4-pin; downstream connection: 1 x M8 female socket, 4-pin
Bit width in the process image
8 outputs
Electrical isolation
channels/control voltage: no, between the channels: no, control voltage/fieldbus: depends on the bus system
| Technical data | IP2001-B510 |
| --- | --- |
| Extension modules | – |
| Digital peripheral signals | according to I/O type |
| Analog peripheral signals | according to I/O type |
| Number of PDOs (CANopen) | 16 send and 16 receive process data objects |
| Additional CANopen features | life, node guarding, emergency object, variable mapping, store/restore |
| Configuration possibility | through KS2000 or the controller (service data objects) |
| Data transfer rates | automatic detection of 10 kbaud up to 1 Mbaud |
| Bus interface | 1 x M12 plug, 5-pin |
| Data transfer medium | shielded copper cable, 2 x signal, 1 x CAN ground (recommended) |
| Power supply | control voltage: 24 V DC (-15 %/+20 %); load voltage: according to I/O type |
| Power supply connection | feed: 1 x M8 male socket, 4-pin; downstream connection: 1 x M8 female socket, 4-pin |
| Box supply current | 45 mA + current consumption of sensors, max. 0.5 A |
| Auxiliary power current | according to I/O type |
| Electrical isolation | control voltage/fieldbus: 500 V, control voltage/inputs or outputs: according to I/O type |
| I/O communication types | event driven, cyclic, synchron, polling |
| Operating/storage temperature | 0…+55 °C/-25…+85 °C |
| Vibration/shock resistance | conforms to EN 60068-2-6/EN 60068-2-27 |
| EMC immunity/emission | conforms to EN 61000-6-2/EN 61000-6-4 |
| Protect. rating/installation pos. | IP65/66/67 (conforms to EN 60529)/variable |
| Approvals/markings | CE, UL |
| Housing data | Standard housing |
| --- | --- |
| Dimensions (W x H x D) | 30 mm x 175 mm x 26.5 mm |
| Material | PA6 (polyamide) |
| Installation | 2 fixing holes 3.5 mm diameter for M3 |
| Accessories | |
| --- | --- |
| ZK1020-0101-0xxx | pre-assembled IP-Link cable, drag-chain suitable |
| ZK2000-2100-0xxx | M8, plug, straight, male, 3-pin – open end |
| ZK2000-2122-0xxx | M8, plug, straight, male, 3-pin – M8, socket, straight, female, 3-pin |
| ZK2020-3200-0xxx | M8, socket, straight, female, 4-pin – open end |
| ZK2020-3132-0xxx | M8, plug, straight, male, 4-pin – M8, socket, straight, female, 4-pin |
| ZS1020-0010 | IP-Link plug, 1 piece, plug for IP-Link system |
| ZS2000-2210 | Plug field assembly, Sensor, IP65/67, M8, straight, male, 3-pin, A-coded, 0.14…0.5 mm², Ø 4…5.5 mm |
| ZS2000-1213 | Plug field assembly, Sensor, IP67, M8, straight, male, 3-pin, A-coded, 0.14…0.34 mm², Ø 3.5…5 mm |
| ZS2000-2310 | Plug field assembly, Sensor and Power, IP65/67, M8, straight, male, 4-pin, A-coded, 0.14…0.5 mm², Ø 4…5.5 mm |
| ZS2000-2320 | Socket field assembly, Sensor and Power, IP65/67, M8, straight, female, 4-pin, A-coded, 0.14…0.5 mm², Ø 4…5.5 mm |
| ZS5300-0011 | Mounting plate for 14 small or 7 wide EtherCAT-/ EtherCAT P box modules, stainless steel, 500 mm x 130 mm x 1.5 mm |
| ZS5000-0014 | blanking plug, plastic (IP65/67), for M8 socket, green, packaging unit = 50 pieces |
| ZS5000-0010 | blanking plug, plastic (IP67), for M8 socket, packaging unit = 50 pieces |
| ZB8801-0000 | torque wrench for hexagonal plugs, adjustable |
| ZB8801-0001 | torque cable key, M8/wrench size 9, for ZB8801-0000 |