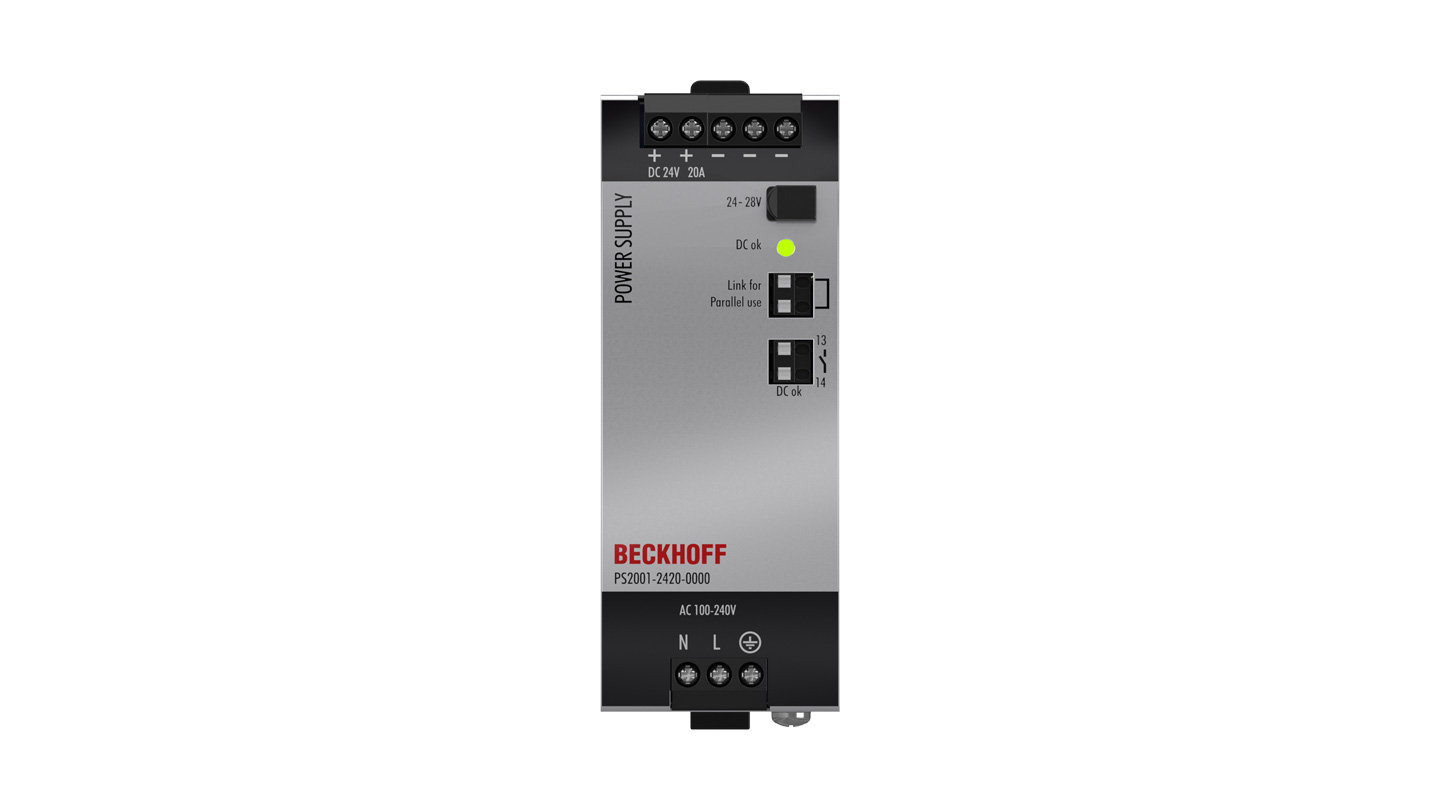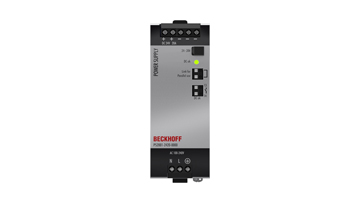 PS2001-2420-0000 | Power supply PS2000; output: 24 V DC, 20 A; input: AC 100…240 V/DC 110…150 V, 1-phase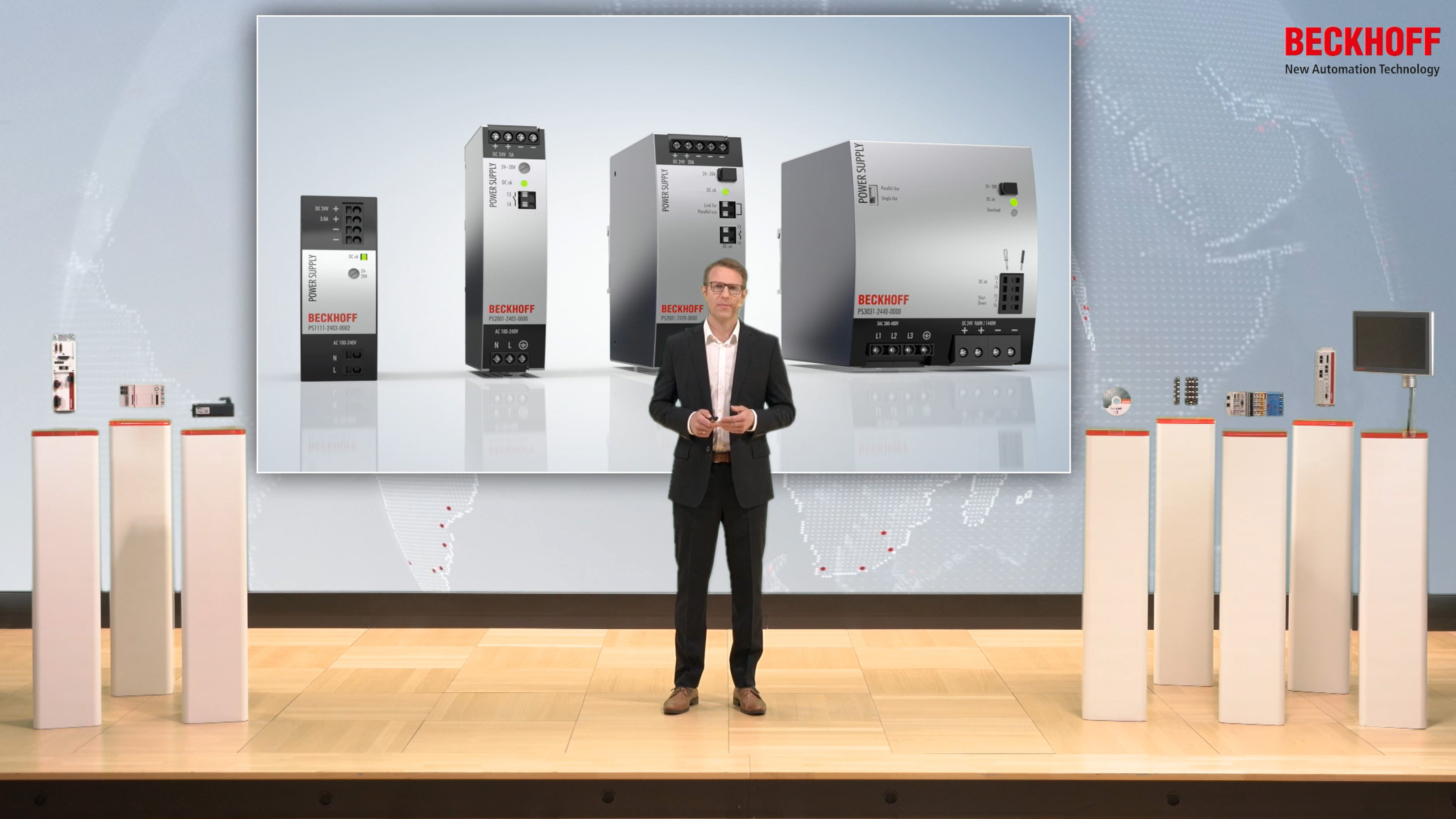 Power supplies for 24 V and 48 V DC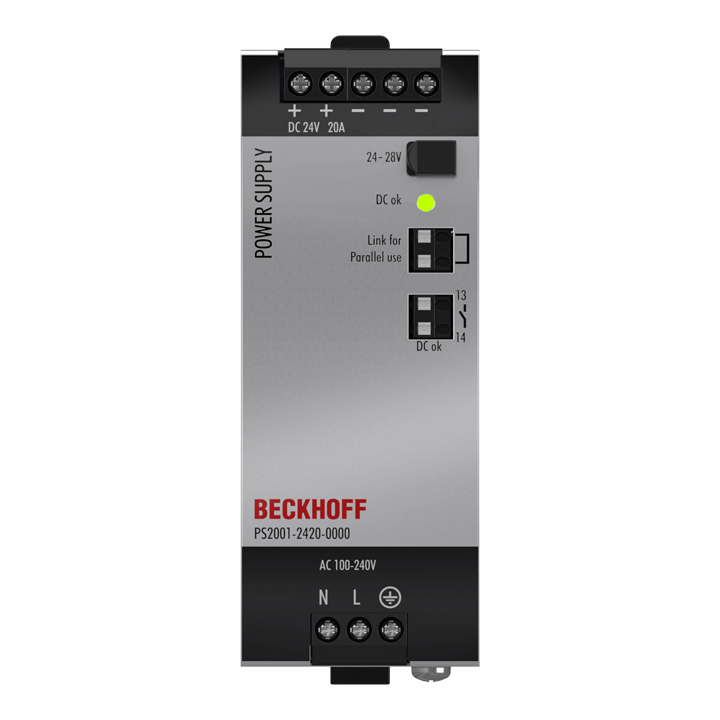 The power supply PS2001-2420-0000 is a single-phase, 24 V DC power supply with an output current of 20 A and an output power of 480 W. On the input side, the device has a wide range input, a power factor correction (PFC) and an inrush current surge regulation. The output operates according to the UI characteristic curve and switches to safe hiccup mode in case of overload/short circuit.
The PS2001-2420-0000 has an extra power with a permanent, maximum output power of 120 % and can precisely trigger fuses with short-term peak current. The power supply belongs to the PS2000 family and has a width of 48 mm. A DC-OK LED and a potential-free relay contact monitor the status of the output voltage.
The power supply has ATEX/IECEx and Class I Div2 approval as well as SEMI F47 certification to meet the requirements of the semiconductor industry.
Product information
| Technical data | PS2001-2420-0000 |
| --- | --- |
| Input voltage | AC 100…240 V, DC 110…150 V |
| Wide-range input | yes |
| Input current | typ. 2.23 A at 230 V AC |
| Switch-on current limiter | yes |
| Mains frequency | 50…60 Hz |
| Starting current | typ. 4.5 A peak at 230 V AC |
| Harmonic correction (PFC) | active |
| Output voltage | 24 V DC |
| Adjustment range | 24…28 V DC |
| Output current | 20 A |
| Output | 480 W |
| Extra power | 20 % (continuously) |
| Precise fuse release | yes |
| DC OK LED | yes |
| Efficiency | approx. 95.6 % |
| Operating temperature | -25…+70 °C |
| Shock resistance | conforms to EN 60068-2-27 |
| Vibration resistance | conforms to EN 60068-2-6 |
| Weight | approx. 830 g |
| Approvals/markings | CE, UL61010, ATEX, IECEx, Class I Div2, SEMI F47 |
| Protection rating | IP20 |
Housing data
Power supply
Dimensions (W x H x D)
48 mm x 124 mm x 127 mm
Material
aluminum
Installation
on 35 mm DIN rail, conforming to EN 60715 with lock
Wiring
spring-loaded technique
Connection cross-section
input/output:
e*: 0.5…6 mm²,
f*: 0.5…4 mm²,
a*: 0.5…4 mm²
Max. cable diameter with end sleeve
Input/Output: 2.8 mm
Connection cross-section AWG
Input/Output: AWG 20-10
Stripping length
input/output: 10 mm
*s: solid wire; st: stranded wire; f: with ferrule