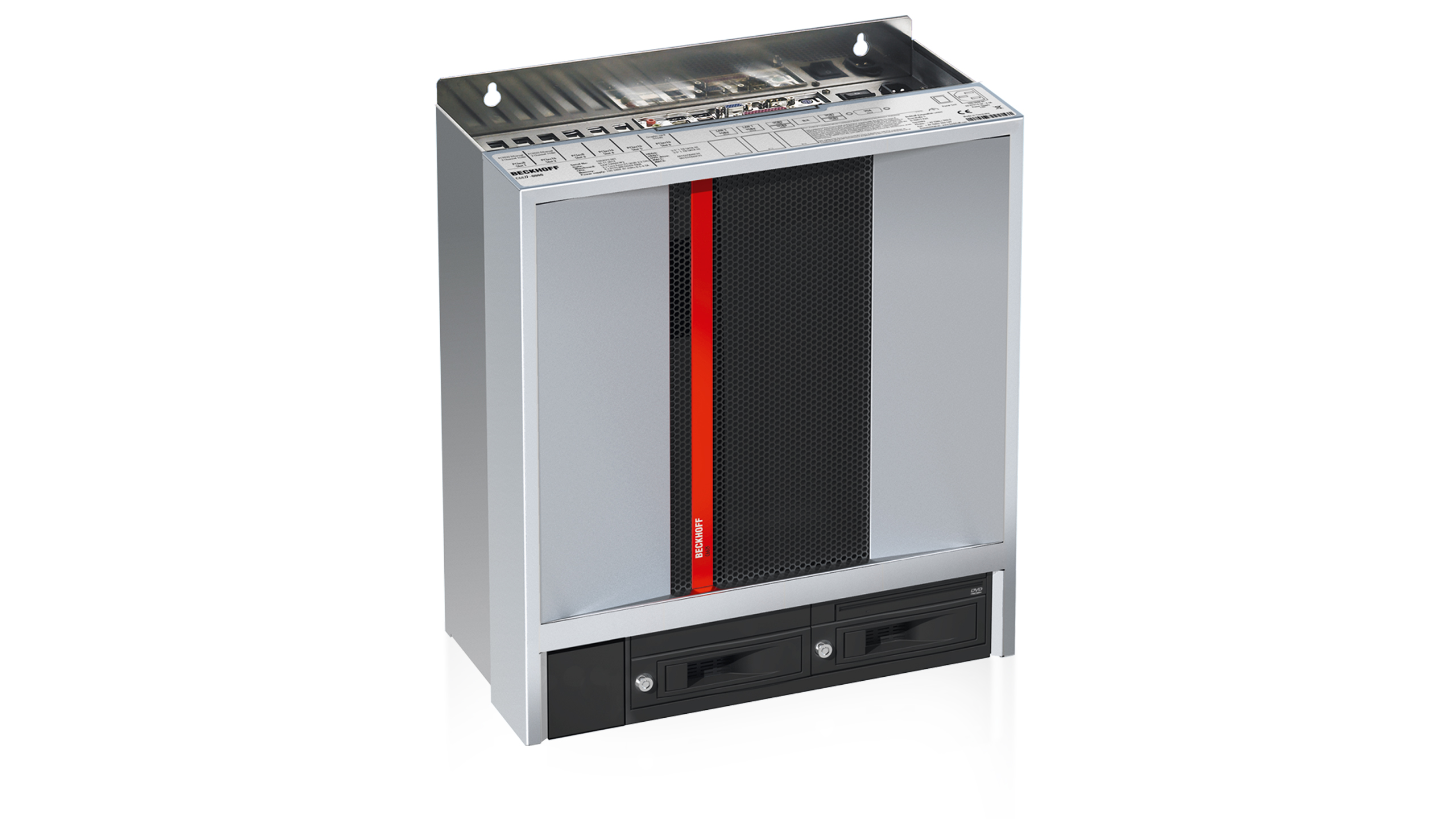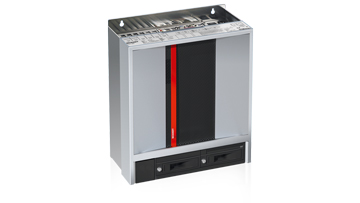 C6675 | Control cabinet Industrial PC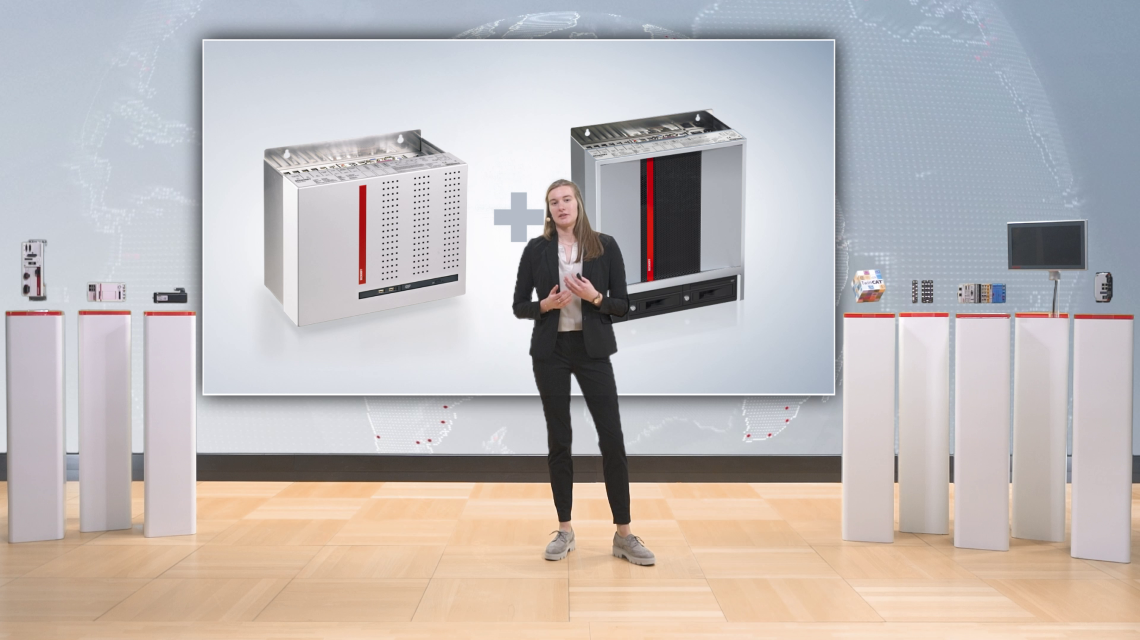 Control cabinet Industrial PC: C6675-00x0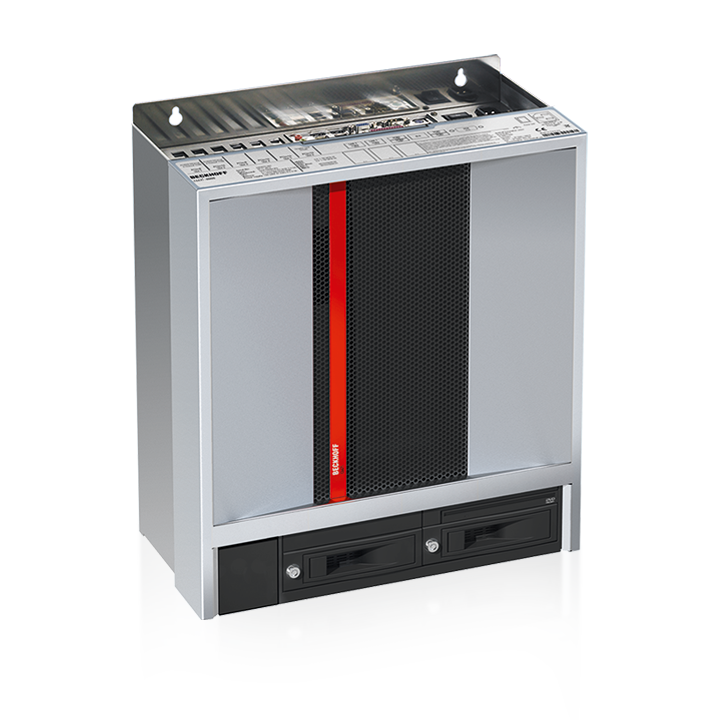 The C6675 is a perfect symbiosis of the properties of a C6670 control cabinet industrial server and a C6650 control cabinet Industrial PC. Together with a Beckhoff Control Panel, this produces an ideal combination for a powerful control platform in machine and system engineering with the TwinCAT automation software. The C6675 is equipped with components of the highest performance class, e.g. an Intel® Celeron®, Pentium® or Core™ i3/i5/i7 processor of the latest generation on a Beckhoff ATX motherboard. The housing and cooling concept adopted from the C6670 also enables the use of a GPU accelerator card, among other things. A total of 300 W is available for plug-in cards. Applications in the field of machine learning or vision can thus be realized in an industrial environment.
Industrial design
All connections of the Industrial PC face upwards, so that the connecting cables can be taken directly to the wiring channel. The side walls are completely passive, and allow the industrial server to be fitted immediately next to other control cabinet devices. All slots are available for full-length plug-in cards. Graphics and Ethernet adapters are already available on-board, without taking up a slot.
Highest data availability and data security
The C6675 features up to two hard drive removable frames which, together with the on-board RAID controller, form a RAID 1 system with two mirrored hard disks or SSDs. This ensures high data security. Hard disks or SSDs which failed can easily be exchanged during operation.
Availability of the components
The housing design of the C6675 ensures long-term compatibility with new PC components. Motherboard, processor, memory or hard disk can be upgraded over the course of time, but the housing remains the same and is compatible with the technology of the coming years.
Flexible expansion options
The device can be equipped with a multi DVD drive. Card holders for the plug-in cards ensure resistance to impacts and vibrations. Drives, memory and plug-in cards are easily accessible. The C6675 server is supplied with a 100 to 240 V AC full range power supply unit.
A type plate is located on the top of the front cover, giving detailed information about the server configuration.
Beckhoff is a pioneer in PC-based automation technology and has been developing and producing its own PC hardware since 1986. The technology know-how that has grown over the past decades is incorporated today into all Beckhoff Industrial PCs. Their principle feature is the use of state-of-the-art components and processors of the highest performance class. Combined with a high in-house production depth, including proprietary motherboard production, long-term component availability, extremely flexible configuration and customer-specific adaptations, Beckhoff presents itself today as one of the world's leading Industrial PC manufacturers.
Variants
Processor
Product status
C6675-0070
Intel

®

Celeron

®

, 2 cores (TC3: 50*) or
Intel

®

Pentium

®

, 2 cores (TC3: 50*) or
Intel

®

Core™ i3, 4 cores (TC3: 60*) or
Intel

®

Core™ i5, 10 cores (TC3: 70*) or
Intel

®

Core™ i7, 16 cores (TC3: 80*) or
Intel

®

Core™ i9, 24 cores (TC3: 81*) or
(12

th

/13

th

generation)

product announcement
C6675-0060
Intel

®

Celeron

®

, 2 cores (TC3: 50*) or
Intel

®

Pentium

®

, 2 cores (TC3: 50*) or
Intel

®

Core™ i3, 4 cores (TC3: 60*) or
Intel

®

Core™ i5, 6 cores (TC3: 70*) or
Intel

®

Core™ i7, 8 cores (TC3: 80*)
(8

th

/9

th

generation)
regular delivery
*The TwinCAT 3 platform level defines the exact ordering number for the respective TwinCAT 3 product. Please see here for an overview of the TwinCAT 3 platform levels.