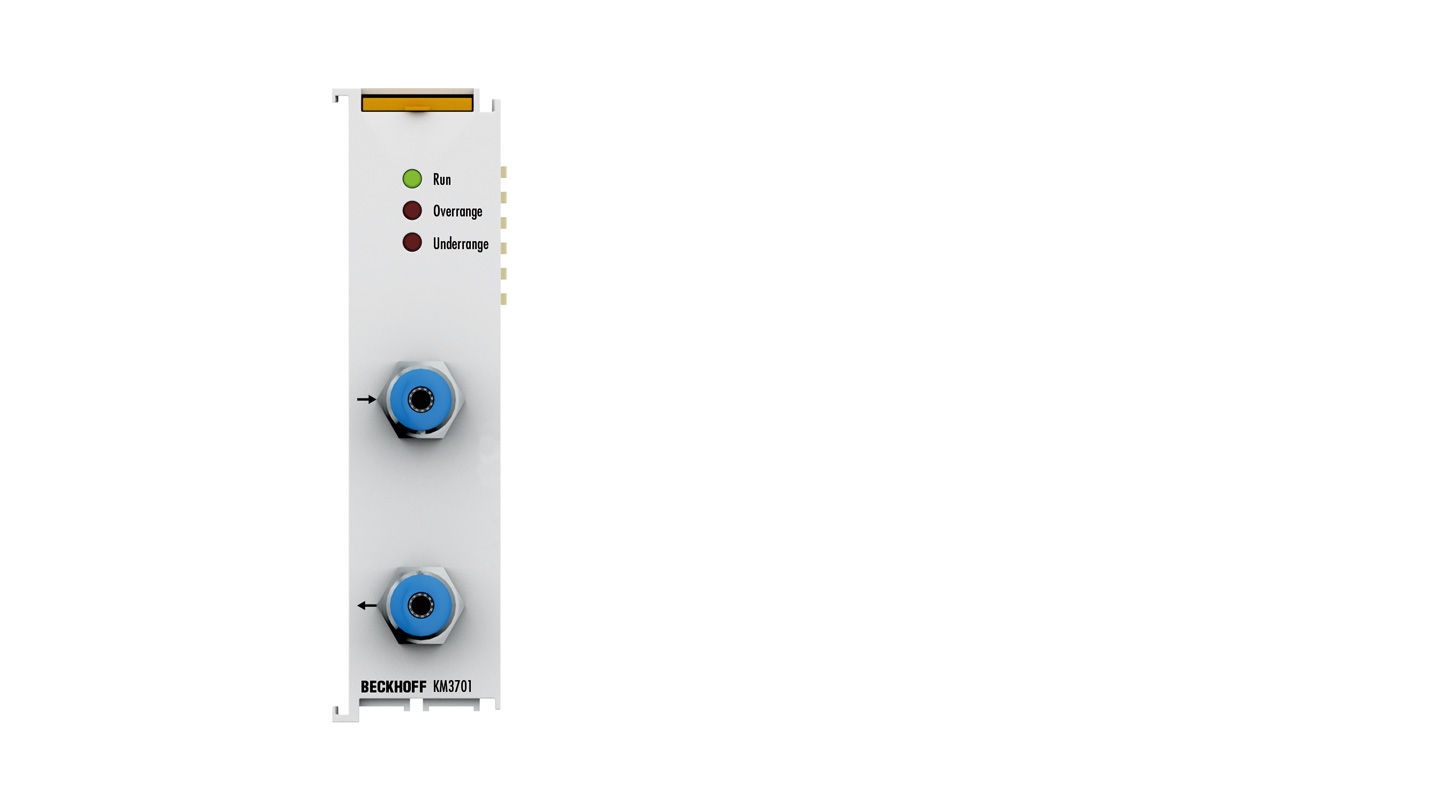 Status LEDs

Hose connection

Hose connection
Top view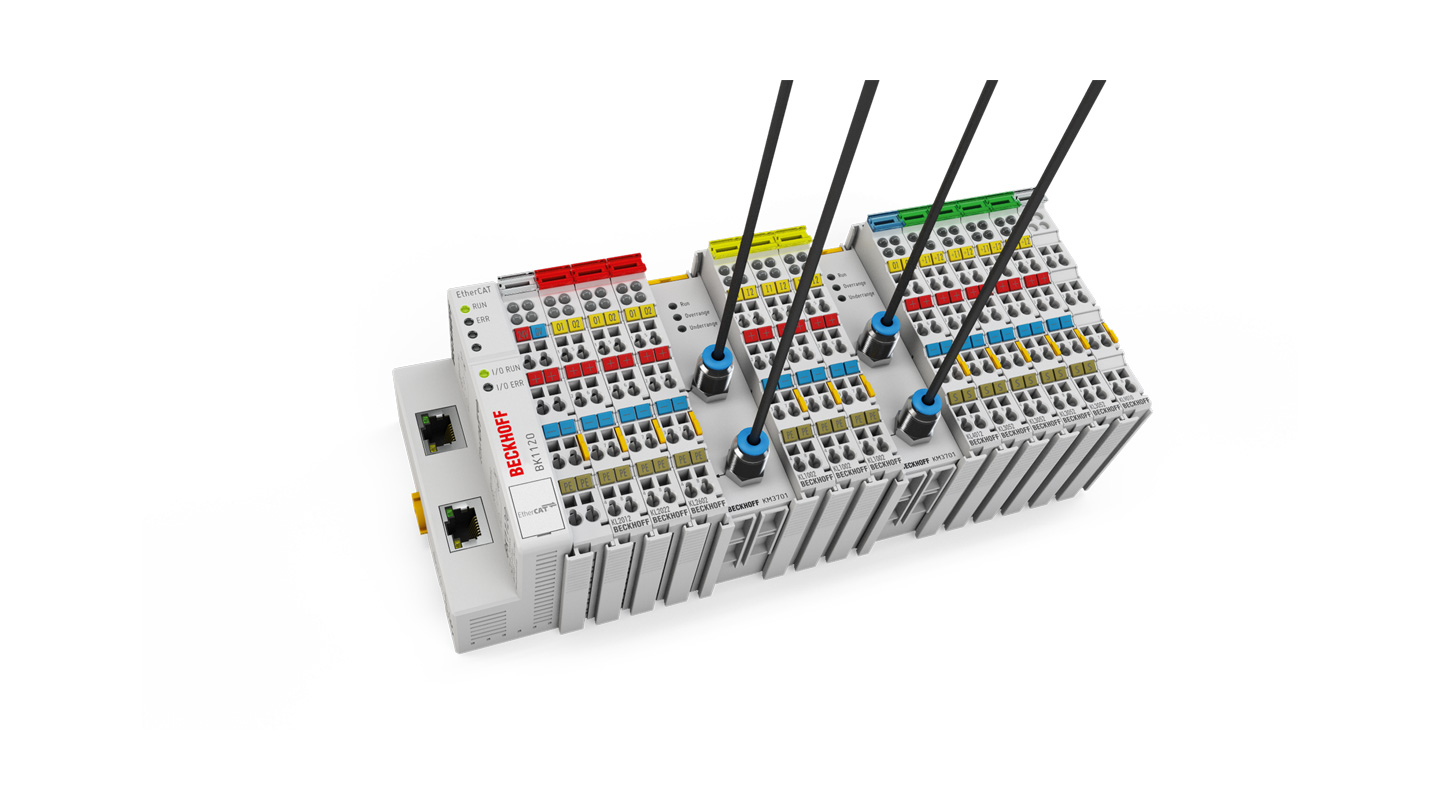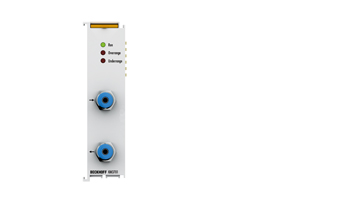 KM3701 | Bus Terminal module, 1-channel analog input, differential pressure, ±100 hPa (±100 mbar)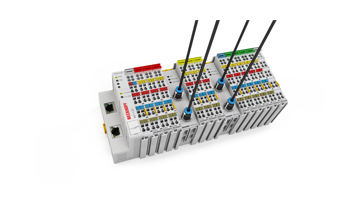 KM3701 | Bus Terminal module, 1-channel analog input, differential pressure, ±100 hPa (±100 mbar)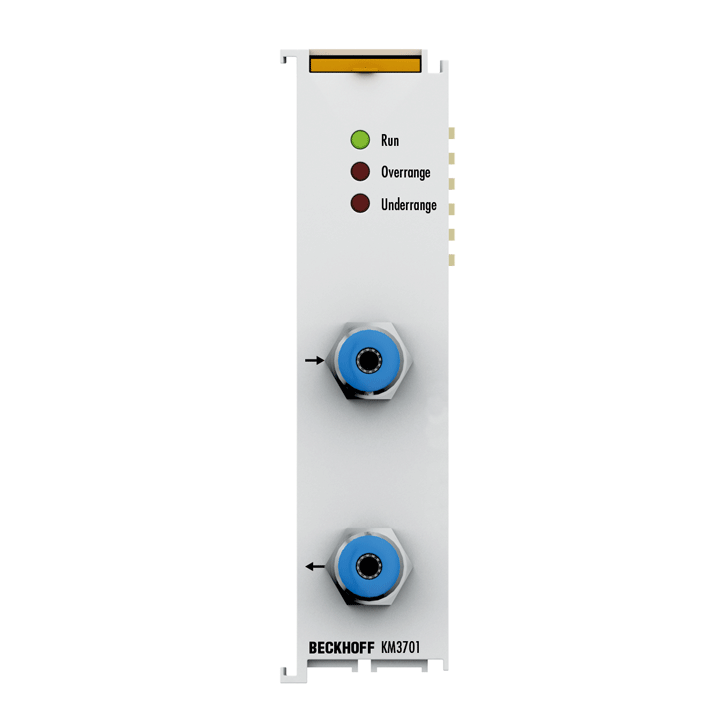 The KM3701 analog input terminal measures the differential pressure between two hose connections in a measuring range of ±100 mbar. The pressure value is directly available to the controller as a 16-bit value, and errors such as out-of-range values are also displayed. The compact design and simple connection system support space-saving and quick installation with no need for additional measuring devices.
The terminal can be used to measure pressure or also to replace a pressure switch. It is not suitable for measuring aggressive gases. The pressure value in the controller enables the switching threshold to be stored as a parameter for a logical operation. Manually setting the pressure switch in the application is therefore no longer required.
Special features:
direct differential pressure measurement in the ±100 mbar measuring range
pressure range overflow display
compact design and simple connection technology
can be used as a replacement for pressure switches
The KM3701 belongs to the KM37xx series of pressure measuring terminals. These are split into two groups: differential pressure measurement (measurement between two terminals) and relative pressure measurement (measurement relative to the environment).
Product information
| Technical data | KM3701 |
| --- | --- |
| Number of inputs | 1 (differential pressure) |
| Technology | differential pressure measurement |
| Measuring range | -100…+100 hPa (-100…+100 mbar) |
| Max. overload | 500 hPa (500 mbar) differential, 5000 hPa (5 bar) to ambient |
| Resolution | 0.1 hPa (0.1 mbar) per digit |
| Measurement error/ uncertainty | 3 % (relative to full scale value) |
| Measuring speed | 5 ms typ. |
| Current consumption power contacts | – (no power contacts) |
| Current consumption K-bus | typ. 15 mA |
| Bit width in the process image | 3 byte input/output |
| Medium | non-aggressive gases |
| Weight | approx. 100 g |
| Operating/storage temperature | 0…+55 °C/-25…+85 °C |
| Relative humidity | 95 %, no condensation |
| Vibration/shock resistance | conforms to EN 60068-2-6/EN 60068-2-27 |
| EMC immunity/emission | conforms to EN 61000-6-2/EN 61000-6-4 |
| Protect. rating/installation pos. | IP20/variable |
| Approvals/markings | CE, UL |
| Housing data | KL-24 |
| --- | --- |
| Design form | compact terminal housing with signal LEDs |
| Material | polycarbonate |
| Dimensions (W x H x D) | 24 mm x 100 mm x 52 mm |
| Installation | on 35 mm DIN rail, conforming to EN 60715 with lock |
| Side by side mounting by means of | double slot and key connection |
| Marking | – |
| Wiring | specific push-in connection |
| Ordering information | |
| --- | --- |
| KM3701 | Bus Terminal module, 1-channel analog input, differential pressure, ±100 hPa (±100 mbar) |
| KM3701-0340 | Bus Terminal module, 1-channel analog input, differential pressure, ±340 hPa (±340 mbar) |