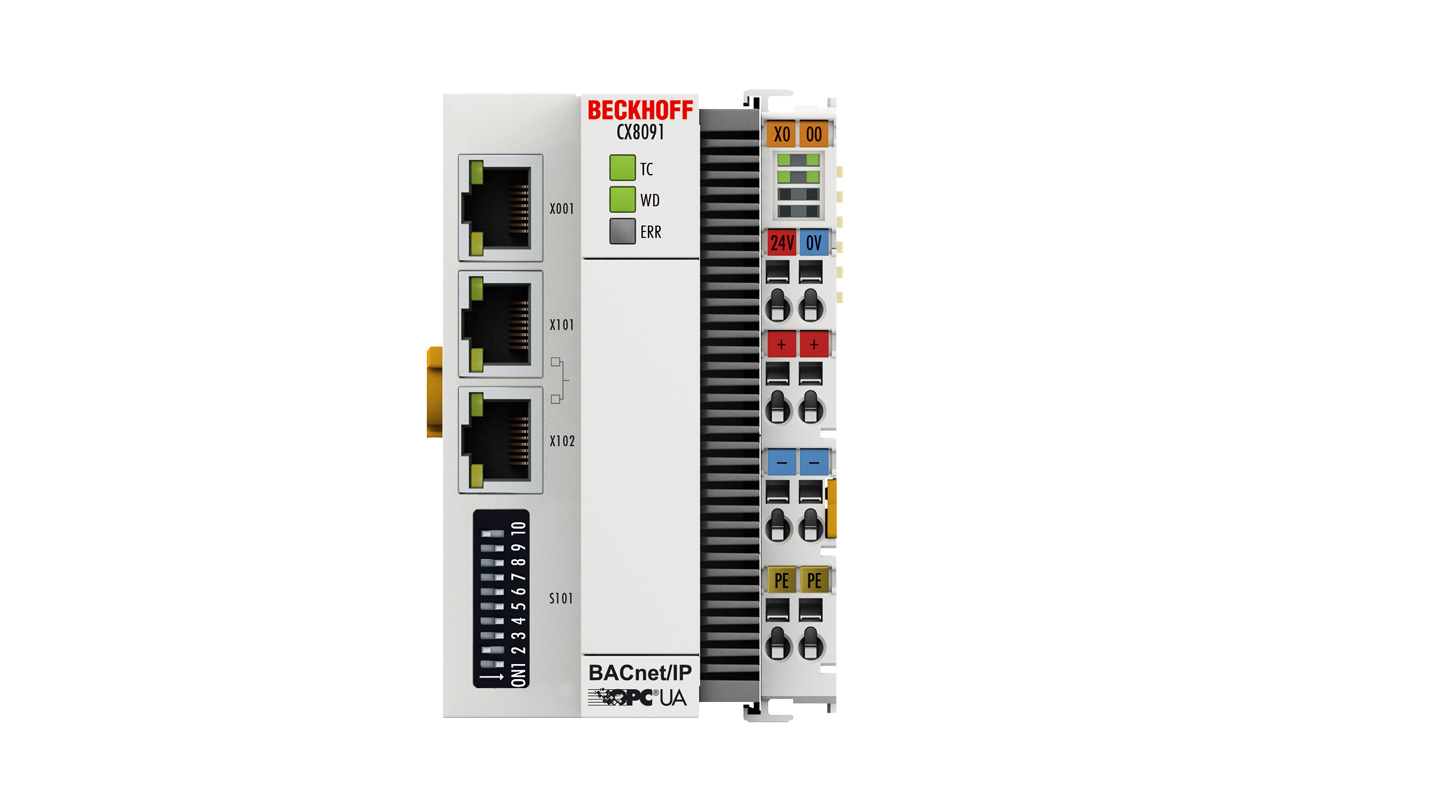 Power LEDs




E-bus or K-bus

Coupler
supply

Input for
power contacts



Power contacts


Front flap


Ethernet port


Link/Act


Ethernet RJ45 (switched)


10/100 Mbit/s


Link/Act


Ethernet RJ45 (switched)


10/100 Mbit/s


Address selector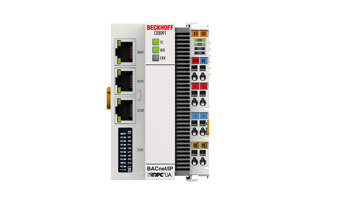 CX8091 | Embedded PC with BACnet/IP or OPC UA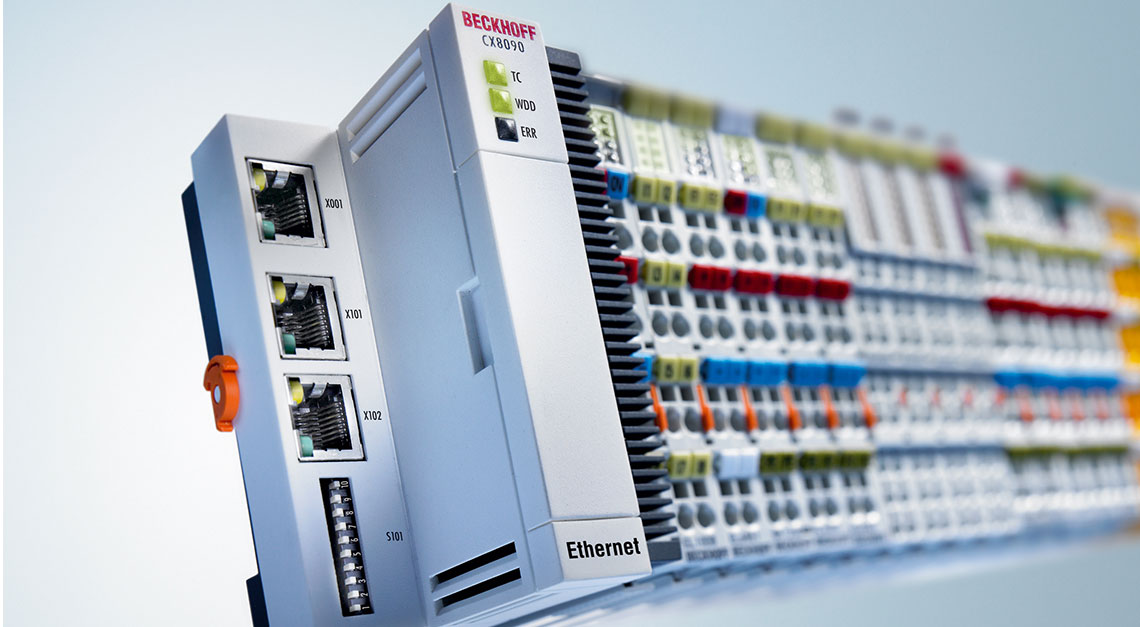 CX8000 Embedded PC series | PC Control redefines small controllers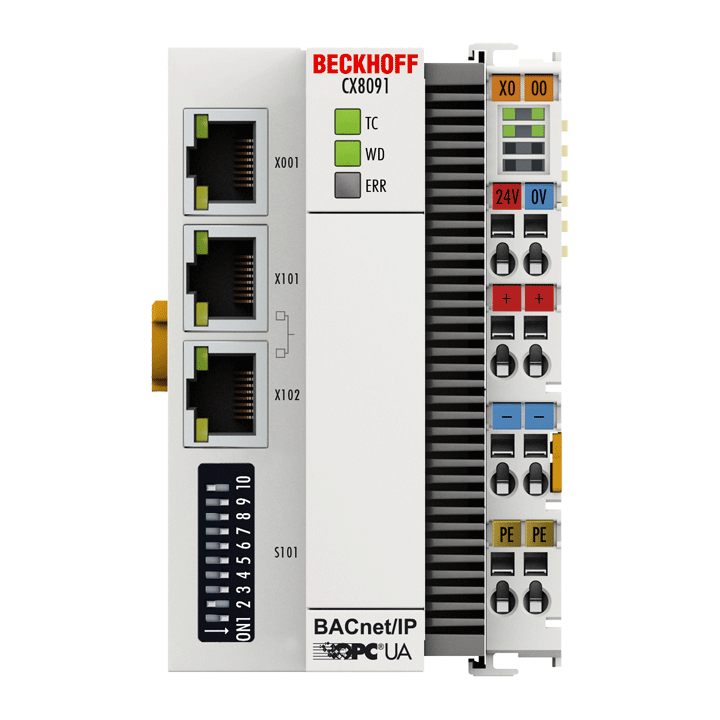 The CX8091 is a control system with a switched Ethernet port. It supports either the BACnet or OPC UA protocols. Simultaneous use is not recommended due to the small memory. K-bus or E-bus terminals can be attached as required; the CX8091 automatically recognizes the type of I/O system connected during the start-up phase. The control system is programmed with TwinCAT 2 via the fieldbus interface or the additional Ethernet interface.
BACnet (Building Automation Control Network) is a standardized, manufacturer-independent communication protocol for building automation. Areas of application include HVAC, lighting control, safety and fire alarm technology.
The TwinCAT OPC UA Server provides the functionality of the OPC Unified Architecture (UA) specification. In addition to data access techniques UA also specifies the data coding and the transport protocols.
Product information
Technical data
CX8091
Processor
ARM9, 400 MHz
Number of cores
1
Flash memory
512 MB microSD (optionally expandable)
Main memory
64 MB DDR2 RAM (not expandable)
Persistent memory
1-second UPS (for 1 MB persistent data)
Programming languages
IEC 61131-3
Web visualization
yes
Online change
yes
Up/down load code
yes/yes
Interfaces
1 x RJ45 10/100 Mbit/s, 1 x USB device (behind the front flap), 1 x bus interface
Bus interface
2 x RJ45 (switched)
Diagnostics LED
1 x TC status, 1 x WD, 1 x error
Clock
internal battery-backed clock for time and date (battery behind the front flap, exchangeable)
Operating system
Windows Embedded CE 6
Control software
TwinCAT 2 PLC
I/O connection
E-bus or K-bus, automatic recognition
Web-based management
yes
Current supply E-bus/K-bus
2 A
Max. power consumption
3 W
Dimensions (W x H x D)
64 mm x 100 mm x 73 mm
Weight
approx. 180 g
Operating/storage temperature
0…+55 °C/-25…+85 °C
Relative humidity
95 %, no condensation
Vibration/shock resistance
conforms to EN 60068-2-6/EN 60068-2-27
EMC immunity/emission
conforms to EN 61000-6-2/EN 61000-6-4
Protection rating
IP20
Approvals/markings
CE, UL, ATEX, IECEx, cFMus
Ex marking
ATEX:
II 3 G Ex nA IIC T4 Gc
II 3 D Ex tc IIIC T135 °C Dc
IECEx:
Ex nA IIC T4 Gc
Ex tc IIIC T135 °C Dc
cFMus:
Class I, Division 2, Groups A, B, C, D
Class I, Zone 2, AEx ec IIC T4 Gc
| Options | |
| --- | --- |
| CX1900-0123 | 1 GB microSD card, instead of 512 MB microSD card |
| CX1900-0125 | 2 GB microSD card, instead of 512 MB microSD card |
| CX1900-0127 | 4 GB microSD card, instead of 512 MB microSD card |
| CX1900-0129 | 8 GB microSD card, instead of 512 MB microSD card |
| CX1900-0131 | 16 GB microSD card, instead of 512 MB microSD card |
| Accessories | |
| --- | --- |
| CX1900-0122 | 512 MB microSD card |
| CX1900-0124 | 1 GB microSD card |
| CX1900-0126 | 2 GB microSD card |
| CX1900-0128 | 4 GB microSD card |
| CX1900-0130 | 8 GB microSD card |
| CX1900-0132 | 16 GB microSD card |