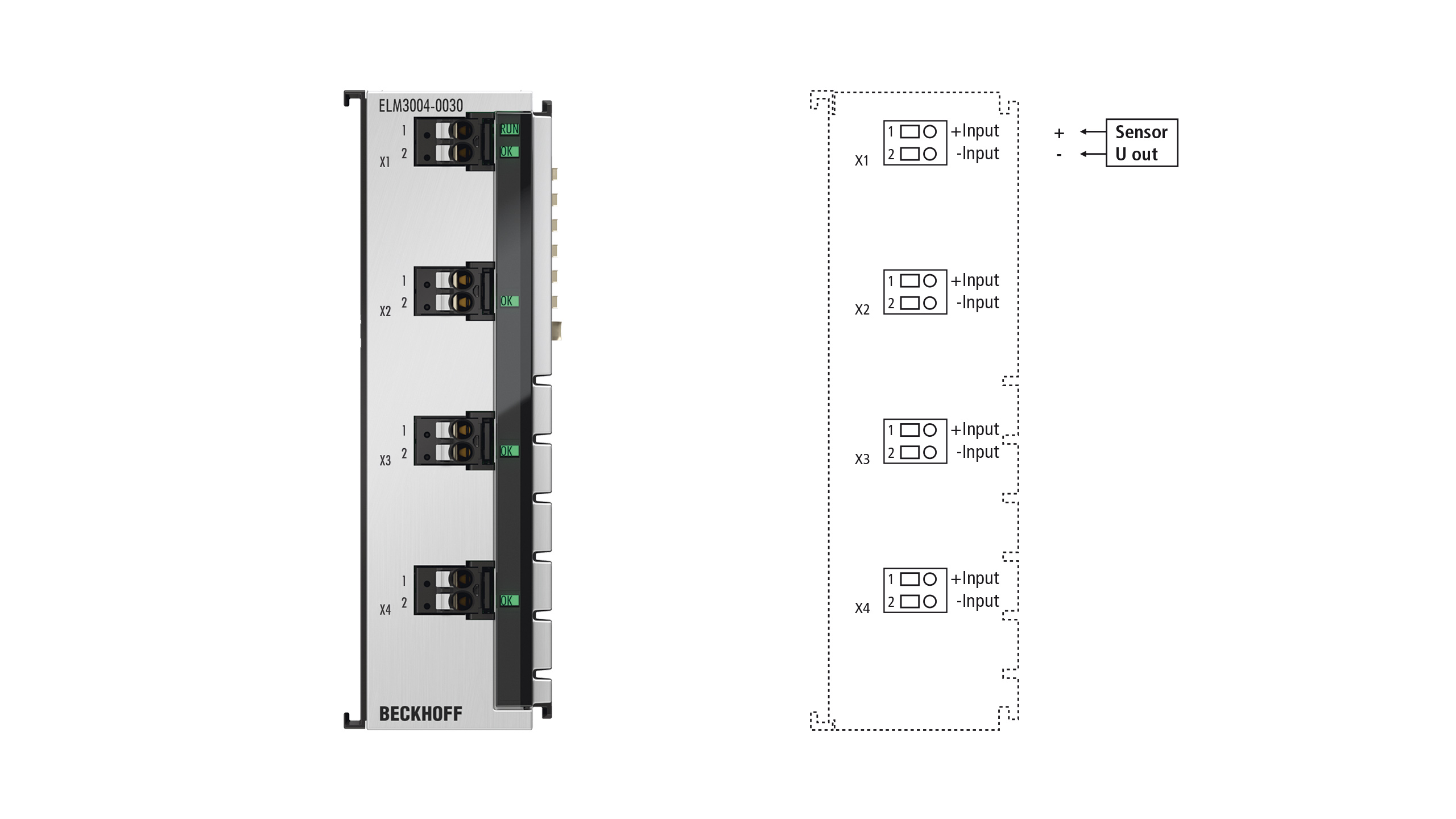 Run LED

OK-LED Channel 1

OK-LED Channel 2

OK-LED Channel 3

OK-LED Channel 4


Channel 1


Channel 2


Channel 3


Channel 4
Top view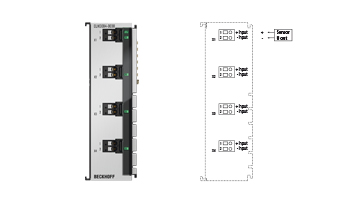 ELM3004-0030 | EtherCAT Terminal, 4-channel analog input, voltage, ±30 V…±20 mV, 24 bit, 10 ksps, externally calibrated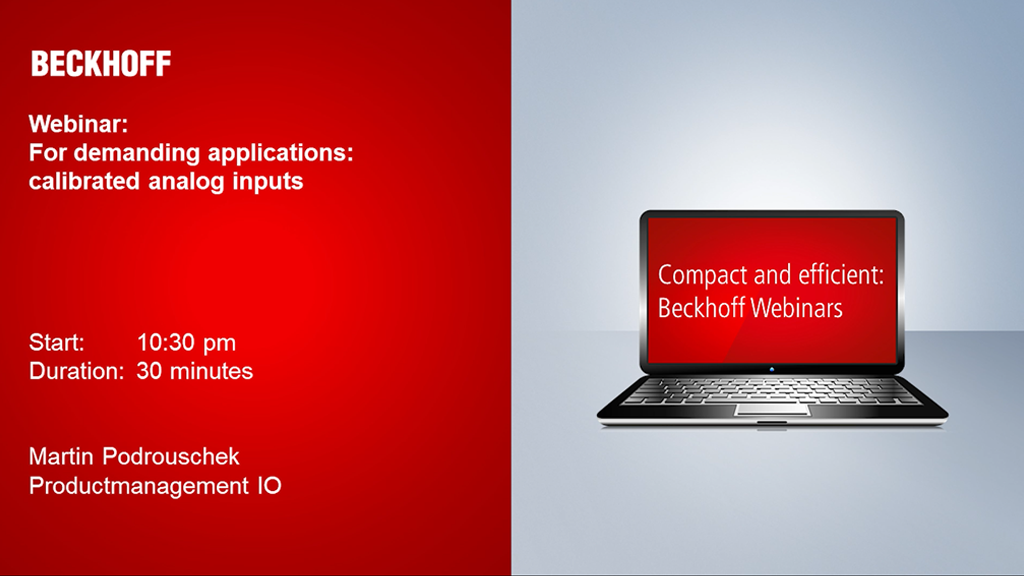 For demanding applications: calibrated analog inputs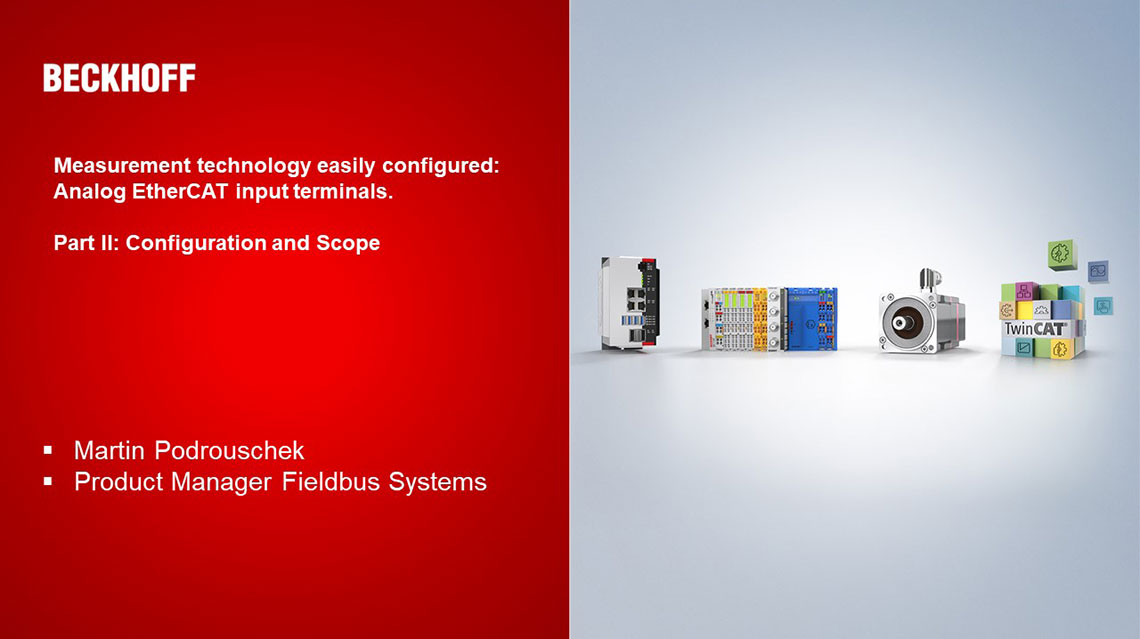 Measurement technology easily configured: Analog EtherCAT input terminals.
Measurement technology simply integrated: With the analog EtherCAT Terminals.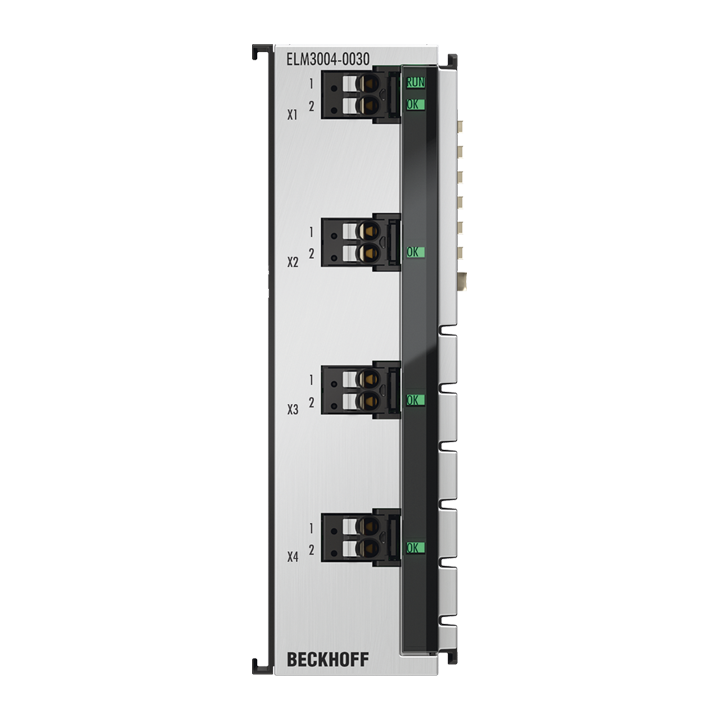 The ELM300x EtherCAT Terminals are designed for flexible voltage measurement from 20 mV to 30 V in eleven measuring ranges. The measuring range is selected in the CoE, as are the other setting options such as the filter parameters. Irrespective of the signal configuration, all ELM modules have the same technological properties. The ELM300x modules for voltage measurement offer a maximum sampling rate of 10,000 or 20,000 samples per second. The 2-pin plug (push-in) can be removed for maintenance purposes without releasing the individual wires.
For the ELM300x-0030, an individual calibration certificate is available, currently as a choice of DAkkS or IS0 17025-compliant certificate. The certificate is issued by an accredited service provider in collaboration with Beckhoff. The desired calibration certificate can be downloaded from here using the respective serial number.
Extensive documentation is available from Beckhoff sales, support or measurement@beckhoff.com.
Product information
| System data | ELM300x |
| --- | --- |
| Voltage measurement | ±30/10/5/2.5/1.25 V, ±640/320/160/80/40/20 mV, 0…5/10 V |
| Technical data | ELM3004-0030 |
| --- | --- |
| Number of channels | 4 |
| Technology | voltage measurement |
| Signal type | differential |
| Connection technology | 2-wire |
| Connection type | push-in, service plug 2-pin |
| Max. sampling rate | max. 100 µs/10 ksps (per channel, simultaneously) |
| Oversampling factor | n = 1…100 selectable (max. 10 ksamples/s) |
| Internal resistance | > 500 kΩ (30 V); > 4 MΩ (others) |
| Measurement error/ uncertainty | typ. < ±50 ppm/±0.005 % in some measuring ranges, relative to the respective full scale value, see documentation |
| Temperature coefficient | typ. < 1 ppm/K |
| Functional diagnostics | yes |
| Connection diagnostics | broken wire/short circuit |
| Distributed clocks | yes, accuracy << 1 µs |
| Resolution | 24 bit (incl. sign) |
| Electrical isolation channel/channel | no |
| Electrical isolation channel/bus | 707 V DC (type test) |
| Electrical isolation channel/SGND | 707 V DC (type test) |
| Current consumption power contacts | – |
| Current consumption E-bus | typ. 470 mA |
| Weight | approx. 350 g |
| Operating/storage temperature | 0…+55 °C/-25…+85 °C |
| Thermal dissipation | typ. 3 W |
| Special features | ExtendedRange 107 %, free numeric filter, TrueRMS, integrator/differentiator, non-linear scaling, PeakHold, calibrated version of ELM3004-0000 |
| Approvals/markings | CE, UL |
Housing data
ELM-30-xpin
Design form
metal housing with signal LEDs
Material
zinc die-cast
Dimensions (W x H x D)
30 mm x 100 mm x 95 mm
Installation
on 35 mm DIN rail, conforming to EN 60715 with lock
Side by side mounting by means of
double slot and key connection
Marking
–
Wiring
solid conductors (s): direct plug-in technique; fine-stranded conductors (st) and ferrule (f): spring actuation by screwdriver
Connection cross-section
s*: 0.2…1.5 mm²,
st*: 0.2…1.5 mm²,
f*: 0.25…0.75 mm²
Connection cross-section AWG
s*: AWG 24…14,
st*: AWG 24…14,
f*: AWG 24…14
Stripping length
8…9 mm
*s: solid wire; st: stranded wire; f: with ferrule
| Technical data | |
| --- | --- |
| ELM3004-0030/000079852 | ELM3004-0030 with external calibration certificate type ISO 17025, external service providers |
| ELM3004-0030/000079853 | ELM3004-0030 with external calibration certificate type DAkkS, external service providers |