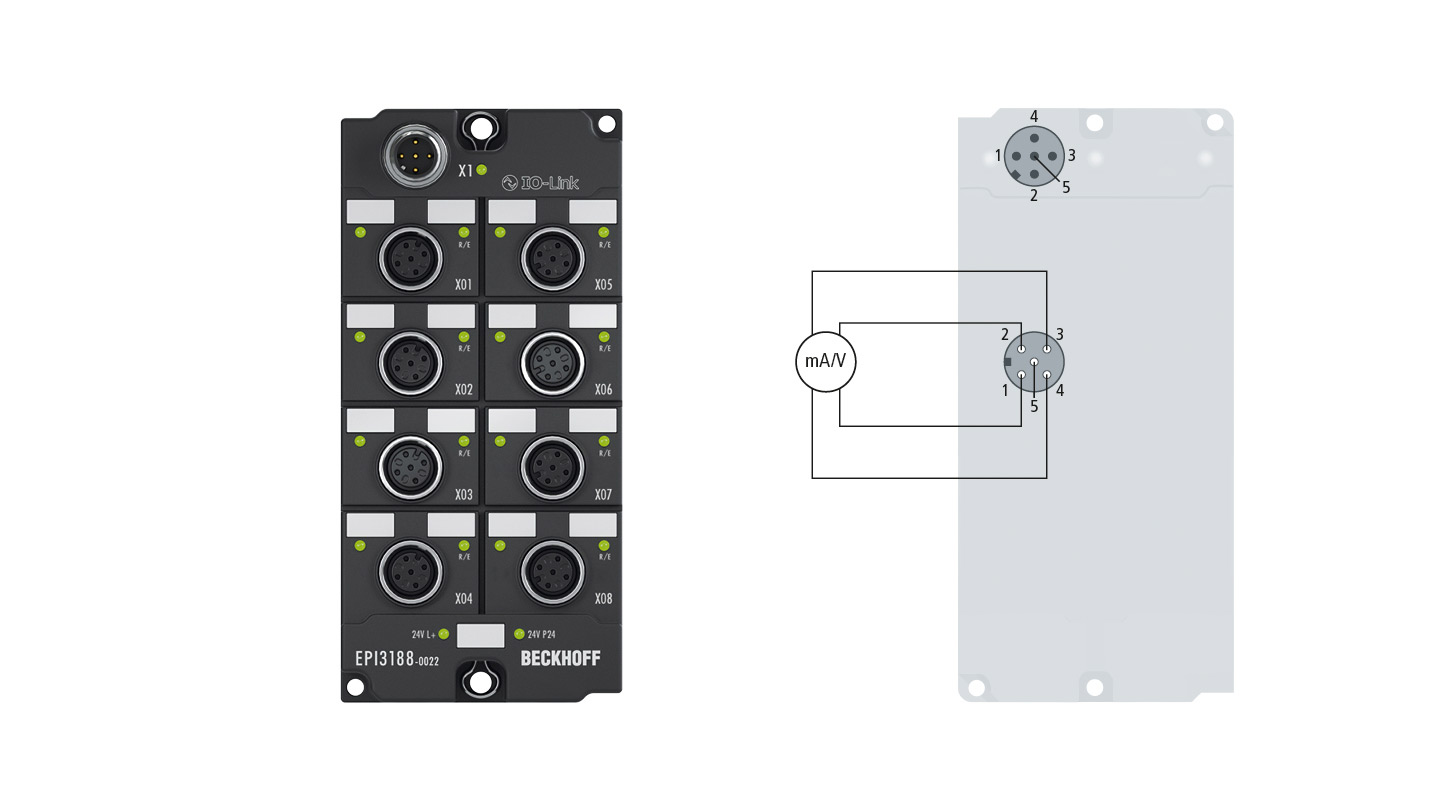 IO-Link status LED


IO-Link interface Class B


M12 I/O connection sockets


Signal status display


Labeling areas
Power supply status display:


LED 24 V (L+)


LED (P24)
1 | L+
2 | P24
3 | L-
4 | C/Q
5 | N24
1 | + 24 V DC P24
2 | Analog In
3 | N24
4 | reserved
5 | Shield
Top view
Connector assignment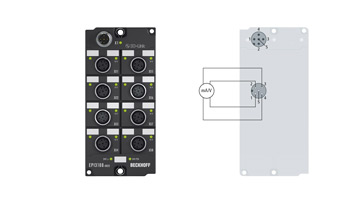 EPI3188-0022 | IO-Link box, 8-channel analog input, multi-function, ±10 V, 0/4…±20 mA, 16 bit, single-ended, M12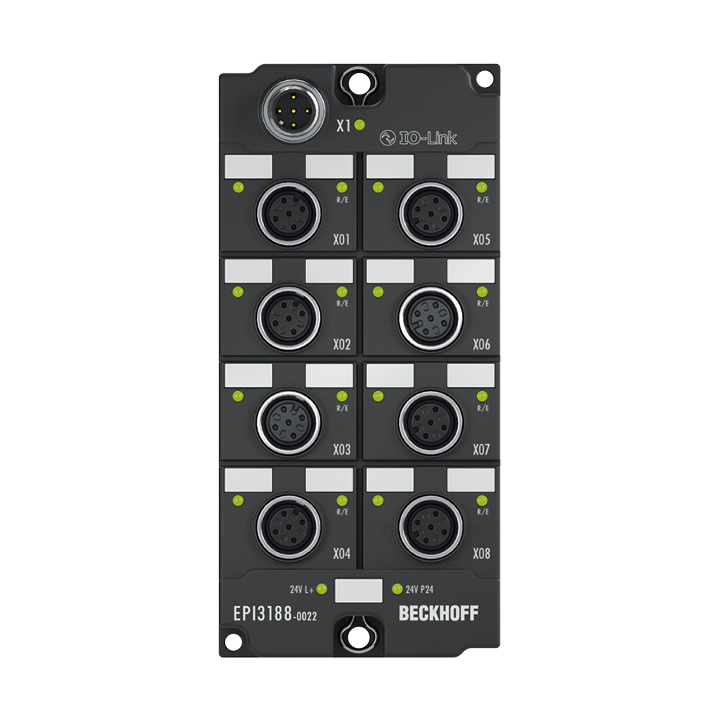 The EPI3188-0022 IO-Link box has eight analog inputs which can be individually parameterized, so that they process signals either in the ±10 V or the 0/4…±20 mA range. The voltage or input current is digitized with a resolution of 16 bit, and is transmitted (electrically isolated) to the higher-level automation device. The eight input channels have single-ended inputs and possess a common, internal ground potential. The input filter and therefore the conversion times are configurable in a wide range. If required, the inputs can be scaled differently, and automatic limit monitoring is also available.
The EPI3188-0022 is a Class B device, a 5-wire cable is required for connection.
Product information
Technical data
EPI3188-0022
Communication
IO-Link
Interfaces
1 x M12 plug, A-coded
Data transfer rates
230.4 kbaud (COM 3)
Specification version
IO-Link V1.1, Class B
Number of inputs
8 (single-ended)
Input connections
M12, screw type
Signal type
-10/0…+10 V | -20/0/4…+20 mA, parameterizable per channel
Internal resistance
> 200 kΩ | typ. 85 Ω + diode voltage
Common-mode voltage U

CM

max. 35 V
Resolution
16 bit (incl. sign)
Measurement error/ uncertainty
< ±0.3 % (relative to full scale value)
Conversion time
~ 100 µs
Input filter limit frequency
5 kHz
Input filter
configurable
Sensor supply
from additional power supply P24
Current consumption
typ. 100 mA from L

+

Electrical isolation
L+/P24: yes
Special features
current or voltage parameterizable (0/4…20 mA, -10/0…10 V)
Operating/storage temperature
-25…+60 °C/-40…+85 °C
Weight
approx. 250 g
Vibration/shock resistance
conforms to EN 60068-2-6/EN 60068-2-27
EMC immunity/emission
conforms to EN 61000-6-2/EN 61000-6-4
Protect. rating/installation pos.
IP65/66/67 (conforms to EN 60529)/variable
Approvals/markings
CE, UL
| Housing data | 8 x M8, 4 x M12 |
| --- | --- |
| Dimensions (W x H x D) | 30 mm x 126 mm x 26.5 mm |
| Material | PA6 (polyamide) |
| Installation | 2 fixing holes 3.5 mm diameter for M3 |