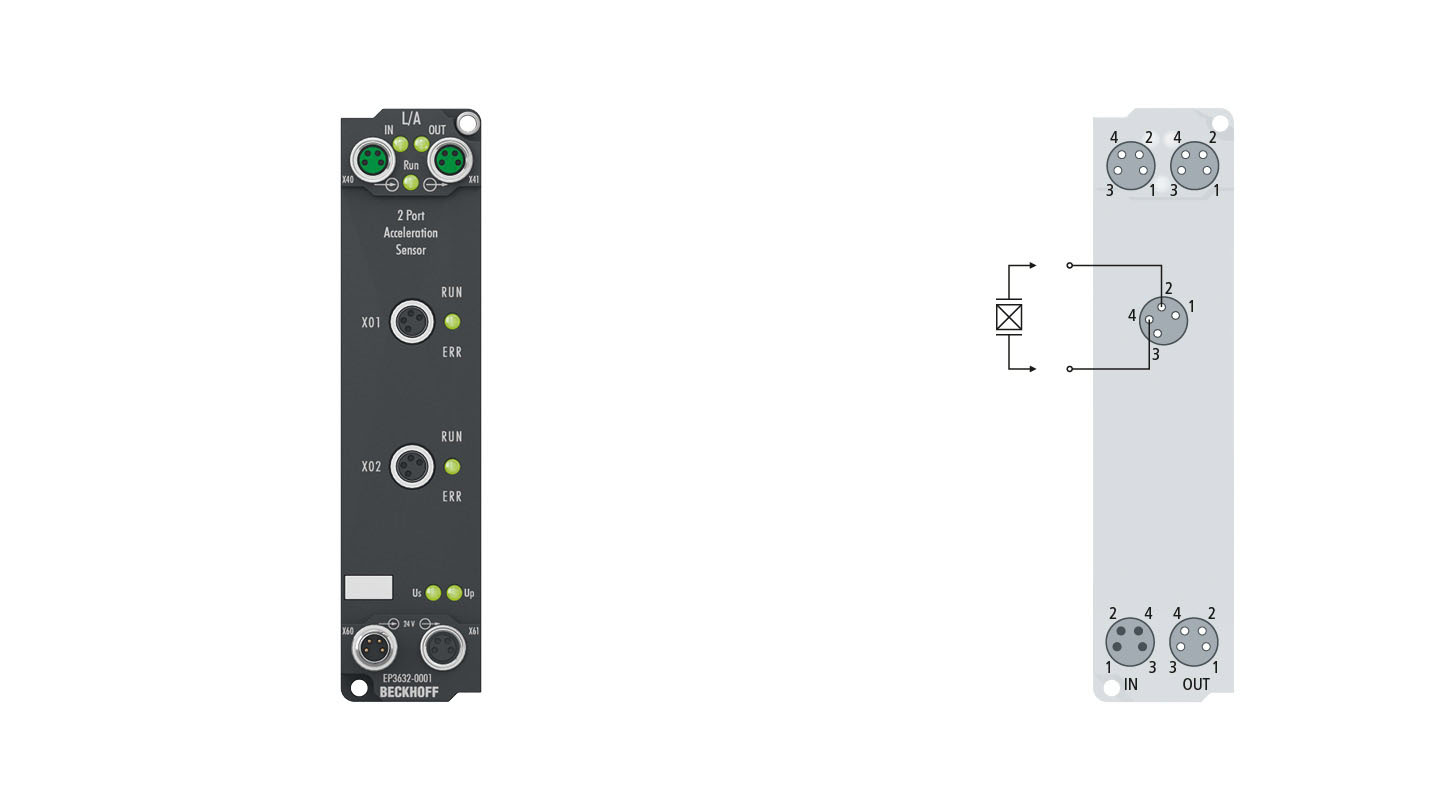 EtherCAT signal input


EtherCAT signal output


M8 I/O connection sockets
Power supply status display:






Power supply feed


Power supply downstream
connection
1 | Tx+
2 | Rx+
3 | Rx-
4 | Tx-
1 | n.c.
2 | Input +
3 | GND
4 | Input -
1 | +24 V DC U
S
2 | +24 V DC U
P
3 | GND
S
4 | GND
P
Acceleration
sensor
Top view
I/O connection
Connector assignment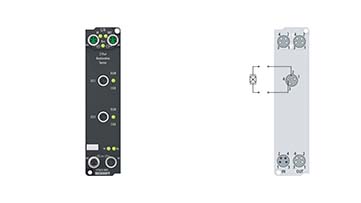 EP3632-0001 | EtherCAT Box, 2-channel analog input, IEPE/accelerometer, 16 bit, 50 ksps, M8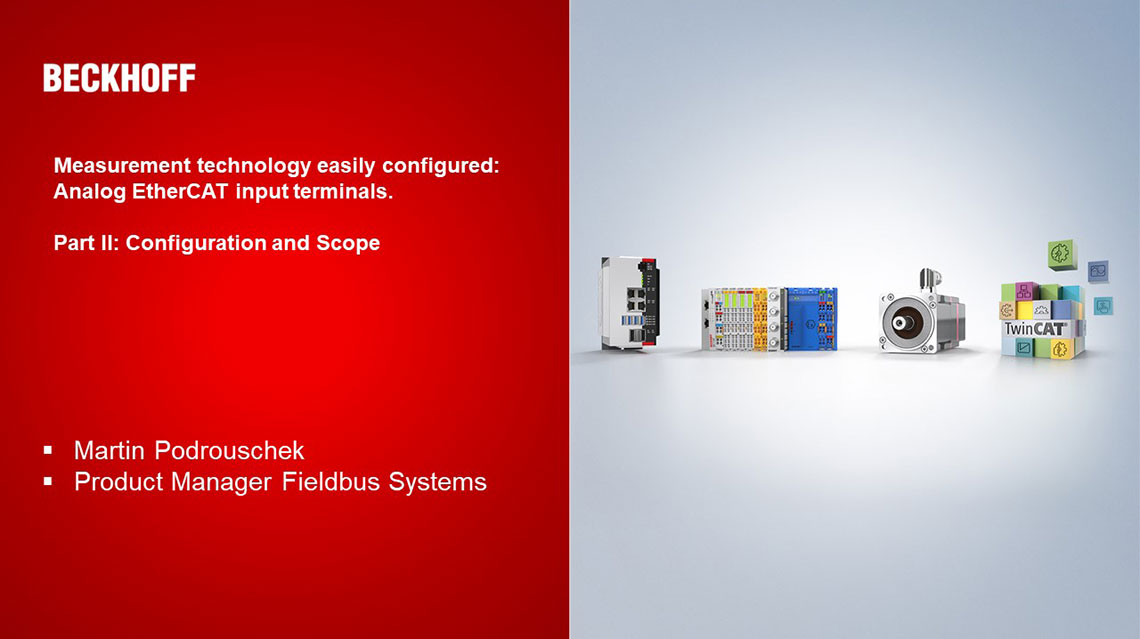 Measurement technology easily configured: Analog EtherCAT input terminals.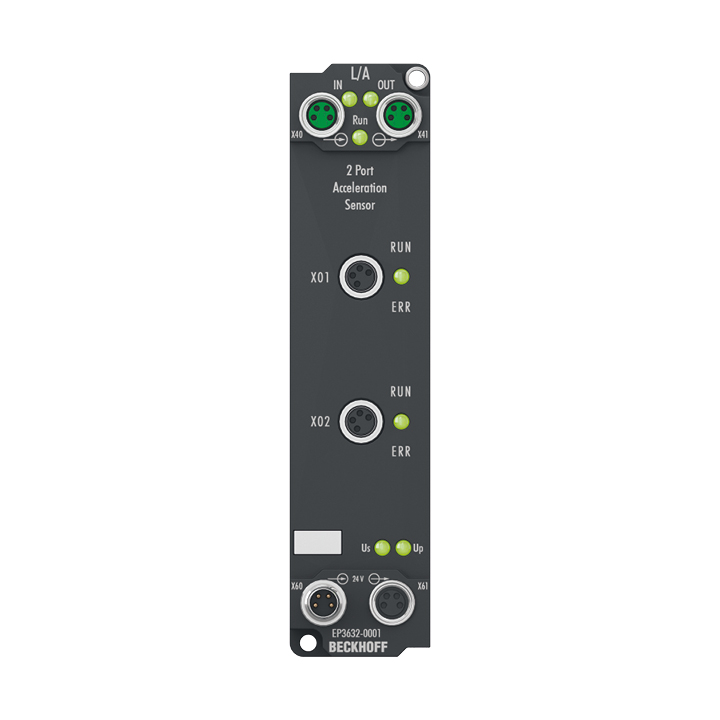 The EP3632-0001 EtherCAT Box is a 2-channel oversampling interface for up to two IEPE sensors with 2-wire connection. The current of the integrated constant current source can be set to 2, 4 or 8 mA separately for each channel depending on the sensor and cable length. The input signal is sampled according to the oversampling principle with up to 50 ksamples per second per channel. The measured values can be correlated to other parts of the system through distributed clocks. Except for filtering, the EP3632-0001 does not pre-process the vibration amplitude values. This is done by the retrieving controller. The interface can be adapted to application-specific requirements by means of adjustable filters and supply currents. The TwinCAT 3 Condition Monitoring library offers extensive algorithms for signal evaluation by the controller, enabling full utilization of the performance and flexibility benefits of the PC platform.
Product information
Technical data
EP3632-0001
Protocol
EtherCAT
Bus interface
2 x M8 socket, shielded, screw type
Technology
condition monitoring/IEPE
Number of inputs
2
Connection method
M8, 4-pin, screw type, shielded
Signal voltage
IEPE constant current supply and recording of modulated AC voltage
Sensor types
IEPE
Sensor state monitoring
yes, through monitoring of the bias voltage
Measuring range
default ±5 V up to 25 kHz, ±250 mV up to 10 Hz
Resolution
16 bit (incl. sign)
Measurement error/ uncertainty
< ±0.5 % (DC; relative to full scale value)
Conversion time
20 μs (max. 50 ksamples/s)
Input filter limit frequency
analog parameterizable 5

th

order low-pass filter up to 25 kHz, typically 0.05 Hz high-pass filter
Nominal voltage
24 V DC (-15 %/+20 %)
Distributed clocks
yes
Supply current I

EXCITE

typ. 2/4/8 mA (separately configurable for both channels)
Sensor supply
from control voltage U

S

Current consumption from U

S

typ. 120 mA
Electrical isolation
500 V
Special features
automatic anti-aliasing function, wire breakage detection
Operating/storage temperature
-25…+60 °C/-40…+85 °C
Weight
approx. 165 g
Vibration/shock resistance
conforms to EN 60068-2-6/EN 60068-2-27
EMC immunity/emission
conforms to EN 61000-6-2/EN 61000-6-4
Protect. rating/installation pos.
IP65/66/67 (conforms to EN 60529)/variable
Approvals/markings
CE, UL
| Housing data | 8 x M8, 4 x M12 |
| --- | --- |
| Dimensions (W x H x D) | 30 mm x 126 mm x 26.5 mm |
| Material | PA6 (polyamide) |
| Installation | 2 fixing holes 3.5 mm diameter for M3 |