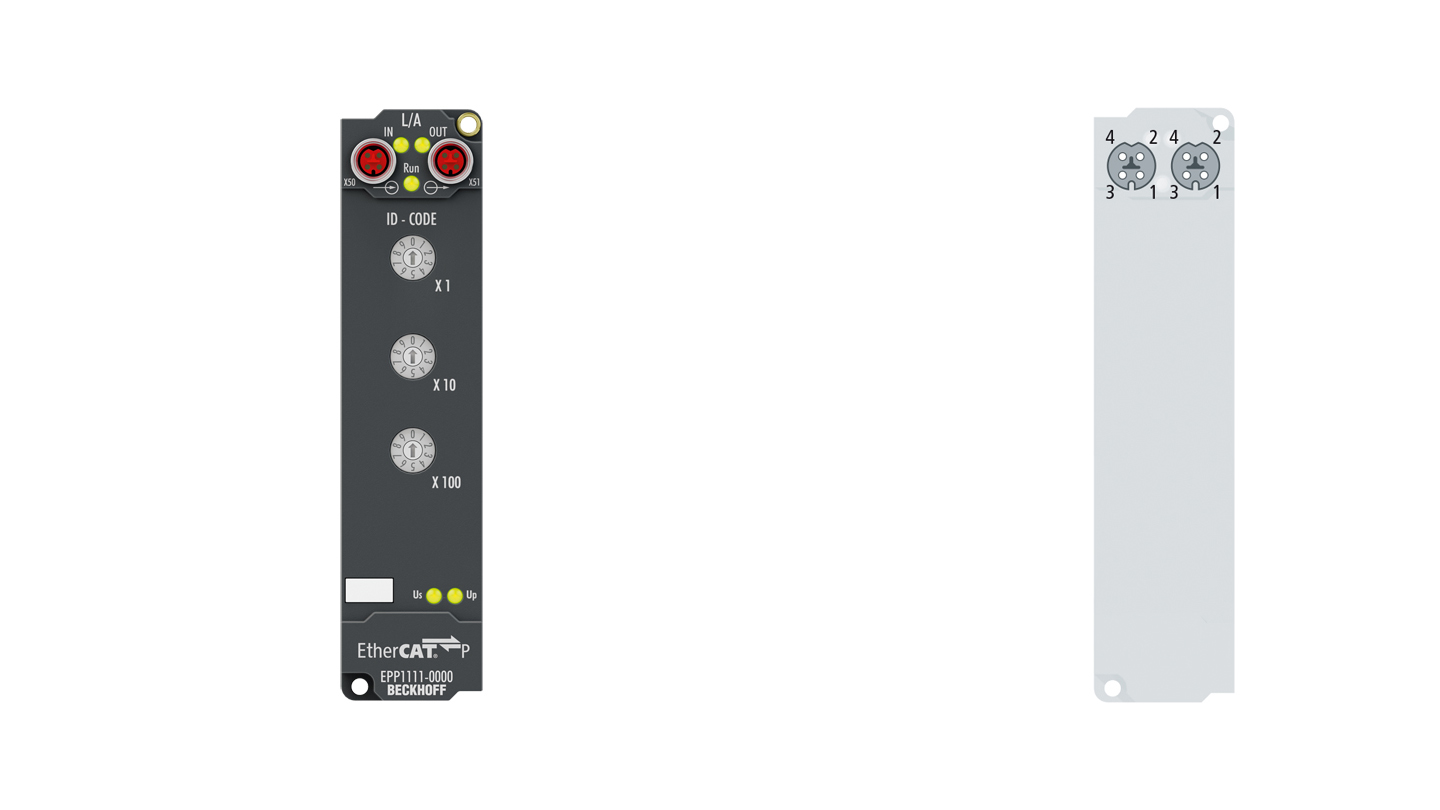 EtherCAT P signal input


EtherCAT P signal output


ID switch
Power supply status display:




1 | Tx+/GND
S
2 | Rx+/GND
P
3 | Rx-/U
P
4 | Tx-/U
S
Top view
Connector assignment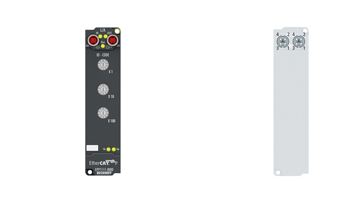 EPP1111-0000 | EtherCAT P Box, ID switch
EtherCAT P: The one cable solution – One step closer to automation without control cabinets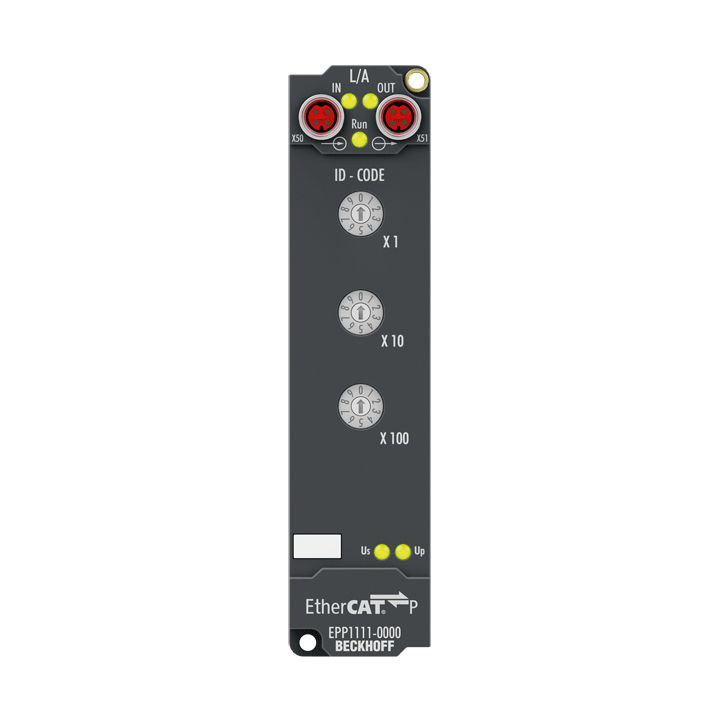 The EPP1111 EtherCAT P Box has three decimal ID switches for assigning an ID to a group of EtherCAT components. This group can be present in any position in the EtherCAT P network, as a result of which variable topologies and Hot Connect groups can be realized in a simple manner.
The EtherCAT P connection is established via shielded P-coded M8 screw type sockets with direct display of link and activity status. The Run LED indicates the status of the EPP1111.
Product information
| Technical data | EPP1111-0000 |
| --- | --- |
| Protocol | EtherCAT |
| Bus interface | 2 x M8 socket, shielded, screw type, P-coded |
| Task within EtherCAT system | identification of any EtherCAT group in the EtherCAT network |
| Data transfer medium | EtherCAT cable |
| Distance between stations | 100 m (100BASE-TX) |
| Data transfer rates | 100 Mbit/s |
| Nominal voltage | 24 V DC (-15 %/+20 %) |
| Distributed clocks | – |
| Configuration | not required |
| Power supply | 24 V DC |
| Sensor supply | – |
| Weight | approx. 165 g |
| Operating/storage temperature | -25…+60 °C/-40…+85 °C |
| Vibration/shock resistance | conforms to EN 60068-2-6/EN 60068-2-27 |
| EMC immunity/emission | conforms to EN 61000-6-2/EN 61000-6-4 |
| Protect. rating/installation pos. | IP65/66/67 (conforms to EN 60529)/variable |
| Approvals/markings | CE, UL |
| Housing data | 8 x M8, 4 x M12 |
| --- | --- |
| Dimensions (W x H x D) | 30 mm x 126 mm x 26.5 mm |
| Material | PA6 (polyamide) |
| Installation | 2 fixing holes 3.5 mm diameter for M3 |