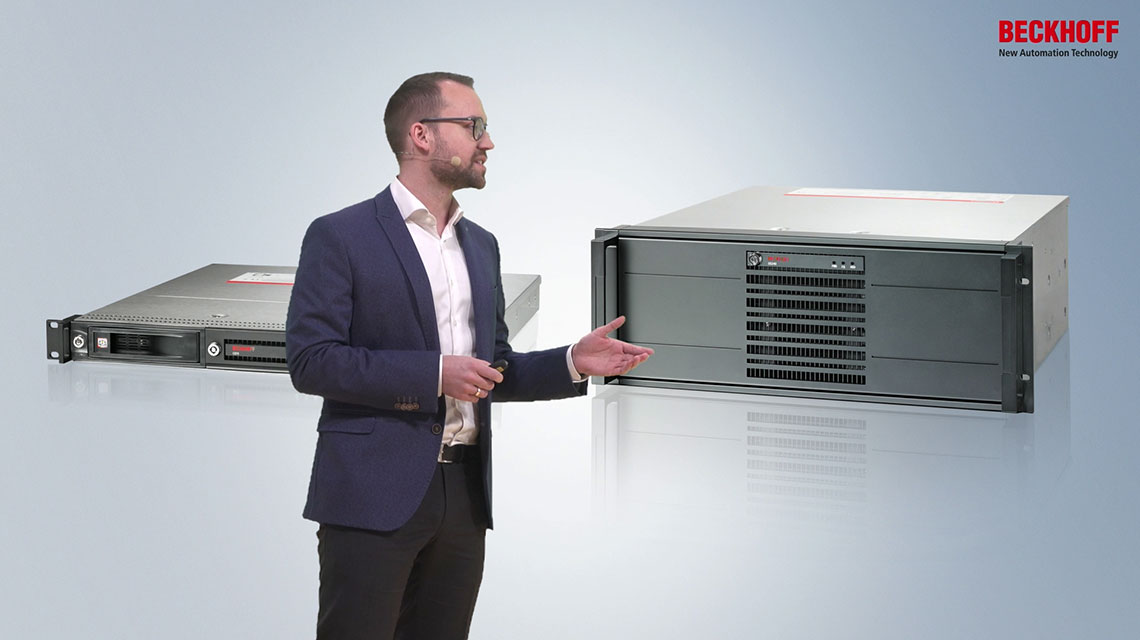 Universal talents in the 19-inch industry standard
The C5xxx Industrial PCs series is designed for 19-inch slide-in installation. They are equipped with maximum performance class components and are ideally suited for machine construction and plant engineering applications, for example with the TwinCAT automation software.
Industrial design and scalable portfolio
The C5210 19-inch slide-in Industrial PC measures only one height unit. This Industrial PC has an Intel® Celeron® or Core™ i3/i5/i7 processor of the latest generation on a 3½-inch motherboard with on-board RAID controller and two 3½-inch hard drive removable frames.
The combination of industrially-capable performance and functionality with an extremely flat design makes the C5210 particularly well-suited for space-saving applications. The low installation height is made possible with the Beckhoff 3½-inch motherboards. The motherboard is equipped with a multitude of on-board interfaces, such as two Gigabit Ethernet ports, a DVI and a COM port as well as four USB ports. The C5210 can be extended with two PCIe modules. A multi DVD drive can be optionally installed behind the front flap. For the 19-inch industrial PC the operating system Windows 10 IoT Enterprise is offered, and up to the 6th Intel® Core™ processor also Windows 7 Professional, Windows 7 Ultimate or Windows Embedded Standard 7.
The C5240 Industrial PC expands the Industrial PC series by a version with four height units and seven PCI and PCIe plug-in card slots in 24 V DC or 110 to 230 V AC versions. The basic configuration includes three 5¼-inch drive bays behind the front flap. As an option, three additional 5¼-inch drive bays are available ex factory. It is designed for installation in a 19-inch rack and is equipped with components of the highest performance class according to the ATX standard.
A Beckhoff industrial motherboard is used with Intel® Celeron®, Pentium® or Core™ i3/i5/i7 processors of the newest Generation. From the 7th Generation a Windows 10 64 bit is required as operating system. With the 6th Generation of Intel® Core™ processors, Windows 7 32 bit or 64 bit can be used as well.
The C5240 is ideally suited for use in machine and plant engineering, for example with TwinCAT automation software.
Beckhoff is a pioneer in PC-based automation technology and has been developing and producing its own PC hardware since 1986. The technology know-how that has grown over the past decades is incorporated today into all Beckhoff Industrial PCs. Their principle feature is the use of state-of-the-art components and processors of the highest performance class. Combined with a high in-house production depth, including proprietary motherboard production, long-term component availability, extremely flexible configuration and customer-specific adaptations, Beckhoff presents itself today as one of the world's leading Industrial PC manufacturers.