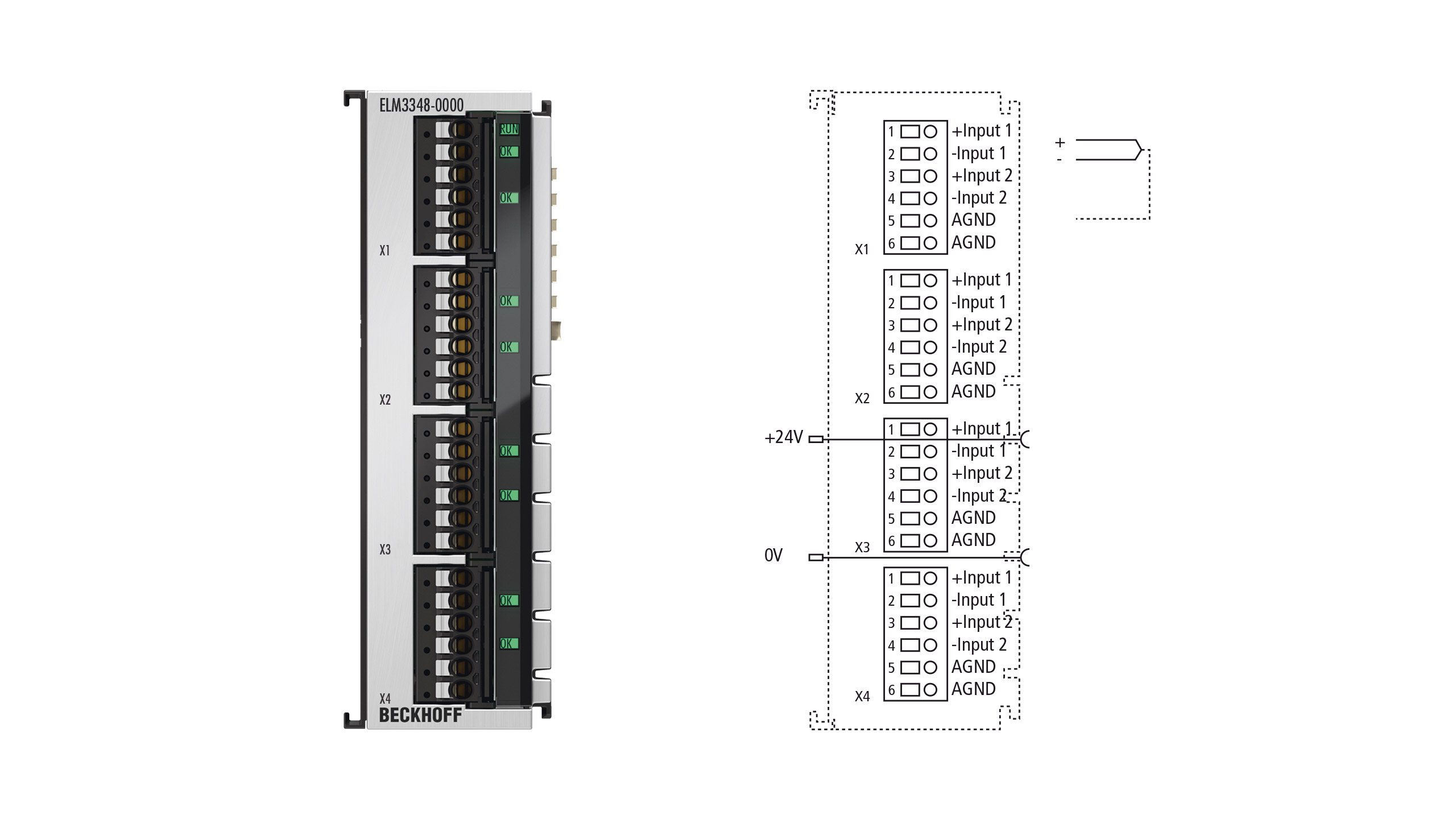 Run LED

OK-LED Channel


Channel 1


Channel 2


Channel 3


Channel 4
Top view
Contact assembly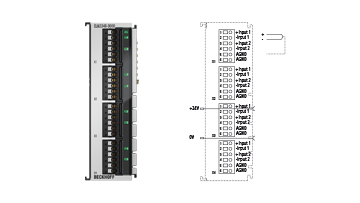 ELM3348-0000 | EtherCAT Terminal, 8-channel analog input, temperature, thermocouple, 24 bit, high-precision, 1 ksps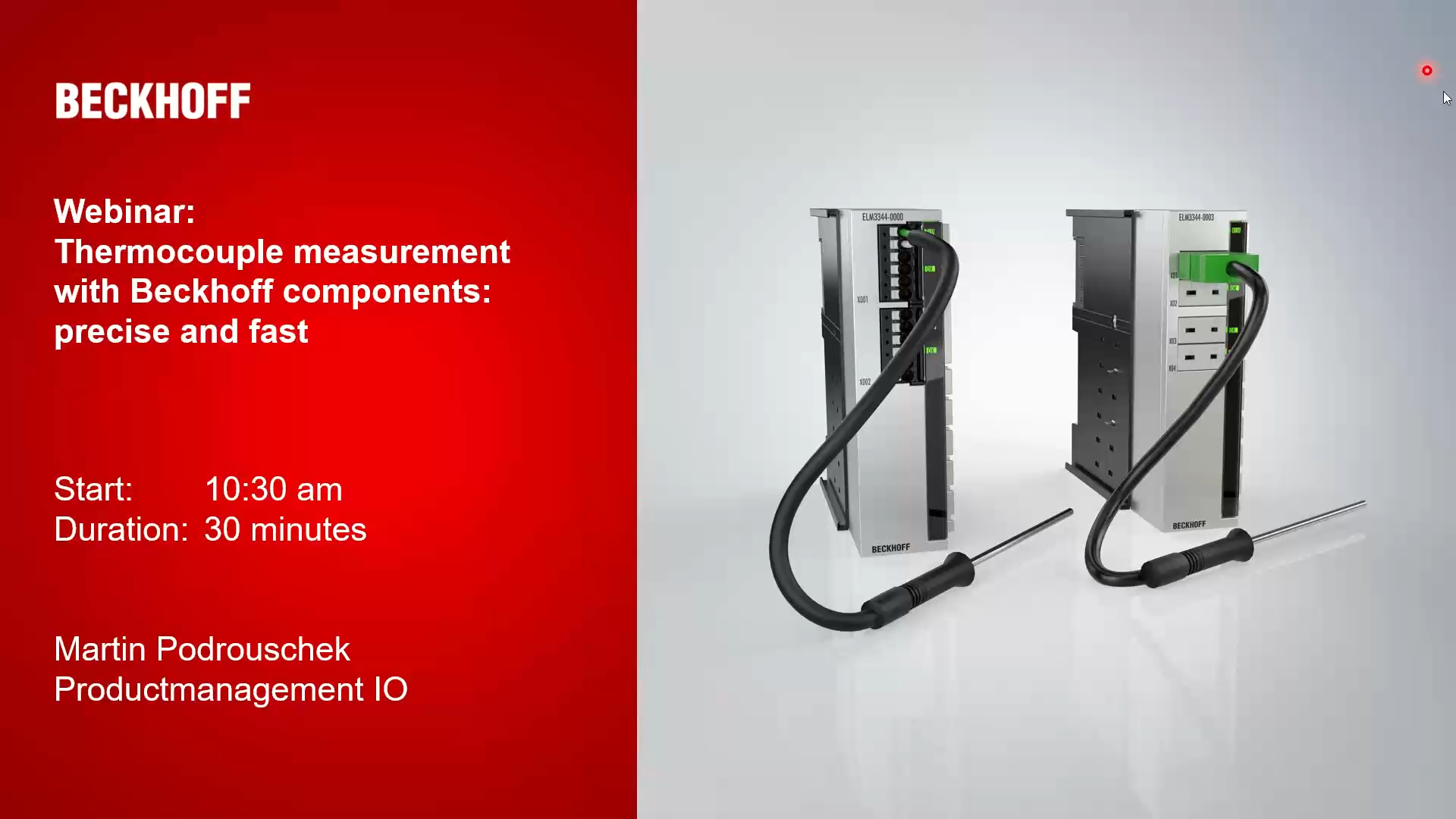 Thermocouple measurement with Beckhoff components: precise and fast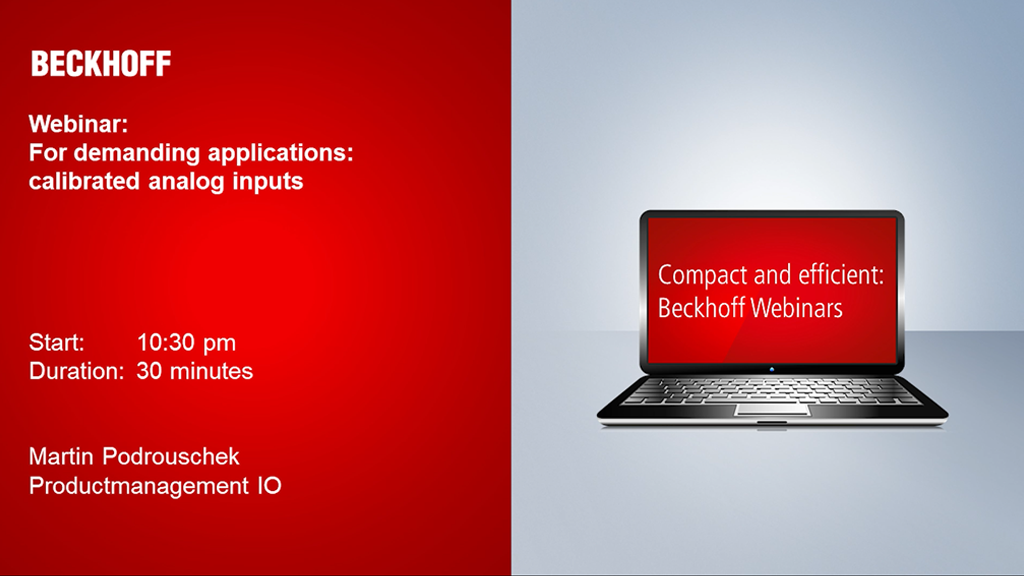 For demanding applications: calibrated analog inputs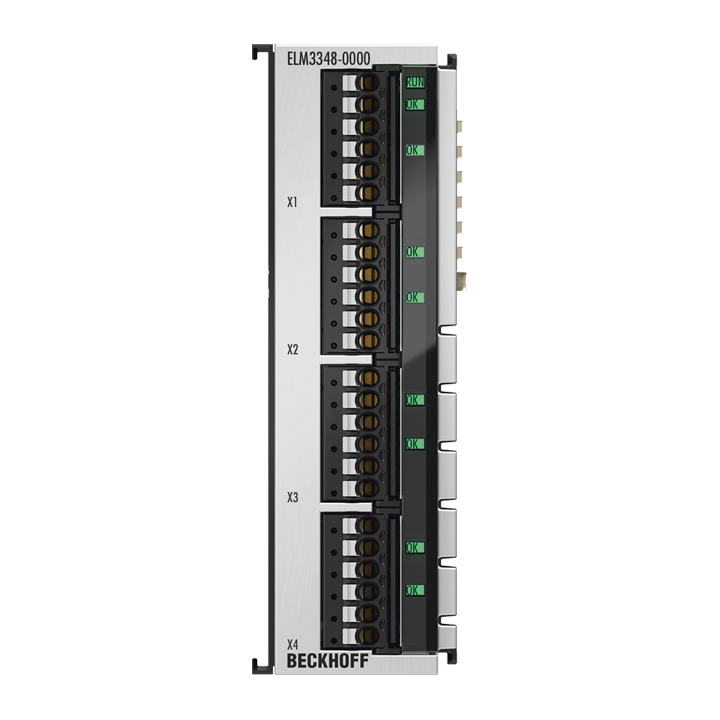 The 4- and 8-channel EtherCAT Terminals from the ELM334x economy series are designed for temperature measurement with thermocouples. All common thermocouple types are covered and, with a sampling rate of 1 ksps per channel, fast processes are also easy to record. The resolution is adjustable to 0.001°C. The channel properties can be adjusted individually for each channel via CoE. An exceptionally high measuring accuracy is achieved through the precise measurement of the internal cold junction.
In the ELM334x-0000 version, the 6-pin connector (push-in) is removable for maintenance purposes without loosening the individual cores. The internal ground for the external connection is also available on it in order to avoid potential differences between channels. In addition, the ELM334x can also continuously measure potential differences in order to detect impairments.
The ELM334x-0003 version with white "universal" thermocouple socket is designed in this series for the highest accuracy requirements. As a result, the thermocouple of one type can be fed into the terminal and thus measured even better. Changing the sensor in laboratory operation is even simpler with the mini socket.
Like all ELM3xxx terminals, the ELM334x devices support the TE1310 TwinCAT Filter Designer for application-oriented filter design and the typical internal functions of the ELM3xxx for data processing such as true RMS calculation, drag indicator, etc.
The fed-through power contacts simplify the potential distribution directly on the DIN rail. To reduce ambient air effects, the ZS9100-0003 shielding hood, which is available as an accessory, can be mounted on the terminal.
Available on request as a variant with factory working standard calibration certificate or ISO 17025/DAkkS certificate and recalibration by the Beckhoff recalibration service.
Extensive documentation is available from Beckhoff sales, support or measurement@beckhoff.com.
Product information
| System data | ELM334x |
| --- | --- |
| Voltage measurement | ±20/40/80/320 mV (2-wire connection) |
| Temperature measurement (thermocouple) | type A1, A2, A3, B, C, D, E, G, J, K, L, N, P, R, S, T, U and others; internal/external cold junction measurement (2-wire connection) |
| Technical data | ELM3348-0000 |
| --- | --- |
| Number of channels | 8 |
| Technology | temperature or voltage measurement, configurable for each channel |
| Signal type | differential |
| Connection technology | 2-wire |
| Connection type | push-in, service plug 6-pin |
| Max. sampling rate | max. 1 ms/1 ksps (per channel, multiplex) |
| Oversampling factor | n = 1…20 selectable |
| Internal resistance | > 4 MΩ |
| Measurement error/ uncertainty | Depending on TC type, see documentation, e.g. type K: < ±0.7 °C at 23 °C and < ±1.1 °C at 0…55 °C with internal cold spot |
| Temperature coefficient | depending on TC type, see documentation, e.g. type K: < 15 mK/K |
| Functional diagnostics | yes |
| Connection diagnostics | broken wire |
| Distributed clocks | yes, accuracy << 1 µs |
| Resolution | 24 bit (incl. sign), adjustable: 0.1 °C |
| Electrical isolation channel/channel | no |
| Electrical isolation channel/bus | 707 V DC (type test) |
| Electrical isolation channel/SGND | 707 V DC (type test) |
| Current consumption power contacts | – |
| Current consumption E-bus | typ. 260 mA |
| Weight | approx. 350 g |
| Operating/storage temperature | 0…+55 °C/-25…+85 °C |
| Thermal dissipation | typ. 2 W |
| Special features | AGND led out, common mode measurement, free numeric filter, TrueRMS, integrator/differentiator, non-linear scaling, PeakHold |
| Approvals/markings | CE |
Housing data
ELM-30-xpin
Design form
metal housing with signal LEDs
Material
zinc die-cast
Dimensions (W x H x D)
30 mm x 100 mm x 95 mm
Installation
on 35 mm DIN rail, conforming to EN 60715 with lock
Side by side mounting by means of
double slot and key connection
Marking
–
Wiring
solid conductors (s): direct plug-in technique; fine-stranded conductors (st) and ferrule (f): spring actuation by screwdriver
Connection cross-section
s*: 0.2…1.5 mm²,
st*: 0.2…1.5 mm²,
f*: 0.25…0.75 mm²
Connection cross-section AWG
s*: AWG 24…14,
st*: AWG 24…14,
f*: AWG 24…14
Stripping length
8…9 mm
*s: solid wire; st: stranded wire; f: with ferrule